a hacker ensures have managed to break into Razer systems and sells data from the database, encryption keys, backend access accounts and source code for the company's website, for $100,000 in exchange for the Monero cryptocurrency (although he is accepting offers). Monero is a cryptocurrency focused on the privacy of its users, which is why it is widely used by all those who prefer to remain anonymous.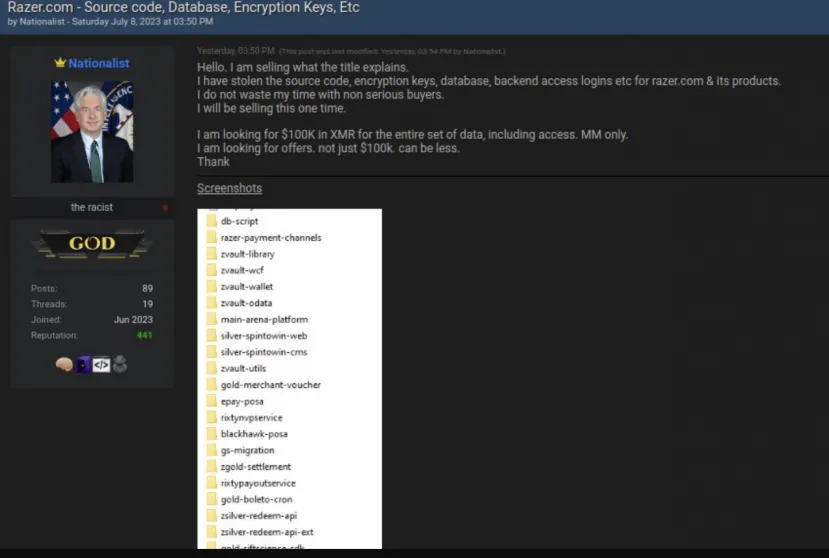 At the moment there seems to be no confirmation or verification as to whether the hack has been true, but Razer assures that they are aware of the announcement of the sale of that data and that they are investigating if there has been any incursion that has bypassed your security systems. We will have to wait to see if there really has been such a hack or if it is a false alarm.
In 2020, the information of more than 100,000 user accounts registered in its services was leaked due to a security breach that caused the account data to be indexed in a search system, giving access to certain account data . However, the security flaw was already corrected in September 2020, so this hack, if true, would have been achieved by other methods.
End of Article. Tell us something in the Comments!
Anthony Delgado
Computer Engineer by training, writer and hardware analyst at Geeknetic since 2011. I love gutting everything that comes my way, especially the latest hardware that we receive here for reviews. In my spare time I mess around with 3d printers, drones and other gadgets. For anything here you have me.