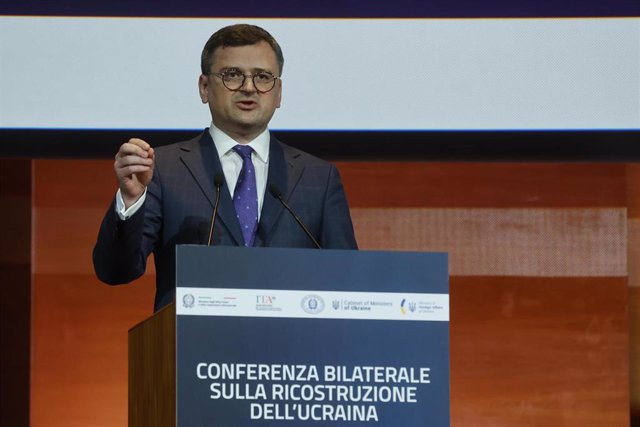 Ukrainian Foreign Minister Dimitro Kuleba. – Europa Press/Contact/Ansa/Vincenzo Livieri
Follow live the latest news about the war in Ukraine
May 25. (EUROPE PRESS) –
The Ukrainian Foreign Minister, Dimitro Kuleba, has accused his Russian counterpart, Sergei Lavrov, on Thursday of putting pressure on the authorities of African countries that he officially visits to extract information about the issues they address during their meetings. "He is following in my footsteps," he has said.
"I know that my tour is being watched very closely in Moscow," Kuleba is heard saying in a video posted on his social networks, on the occasion of his official visit to Ethiopia. "Wherever I go, the Russian ambassador appears," he said.
Thus, he has ensured that Russian diplomats reproach the authorities of African countries for having received him: "'How badly you received the Ukrainian minister'", he quoted. "Lavrov is following in my footsteps, immediately trying to talk to whom I did and planning his visit to Africa," he said.
Kuleba is currently on a tour of Africa, his second since the Russian invasion fifteen months ago, to publicize President Volodimir Zelenski's peace plan to end the war, once several countries on the continent have announced their intention to mediate through their own proposal.
The next stop will be Rwanda. Kuleba has pointed out that Africa is a diplomatic challenge for Kiev, since during the last three decades Moscow has had a strong presence on the continent spreading its idea that it is the "savior and only defender" of the region on the world stage.