VPN for everyone with Google One
Google has long offered a VPN for some of its users. More specifically, it was a service reserved for those who had a pixel phone or a subscription to the service Google One of at least 2TB. However, the company's policy has changed in this regard and now its VPN service is available to any subscriber, even those who barely pay 2 euros a month.
If you are paying for Google One, and regardless of the subscription you have chosen, you now have unlimited VPN, both in speed and in data transmitted. Do you want to know how to configure it on your devices? In the following paragraphs we explore all the ways to enjoy this service, both on mobile and on PC. We show you how to install this VPN on your devices step by step.
How to install Google One VPN on Android and iOS
Google One has long had a dedicated mobile app. This allows you to access some of the exclusive features for subscribers, learn about the news of the service and make backup copies of all your data in the cloud. It is available on both iOS and Android. Now, it has become the gateway to the company's VPN.
To activate it, simply open google one on Android (usually it comes pre-installed, but if it is not the case, It's in the Play Store) or download it to your iPhone, from the app store. The section appears on the main screen VPN. Tap on it to continue.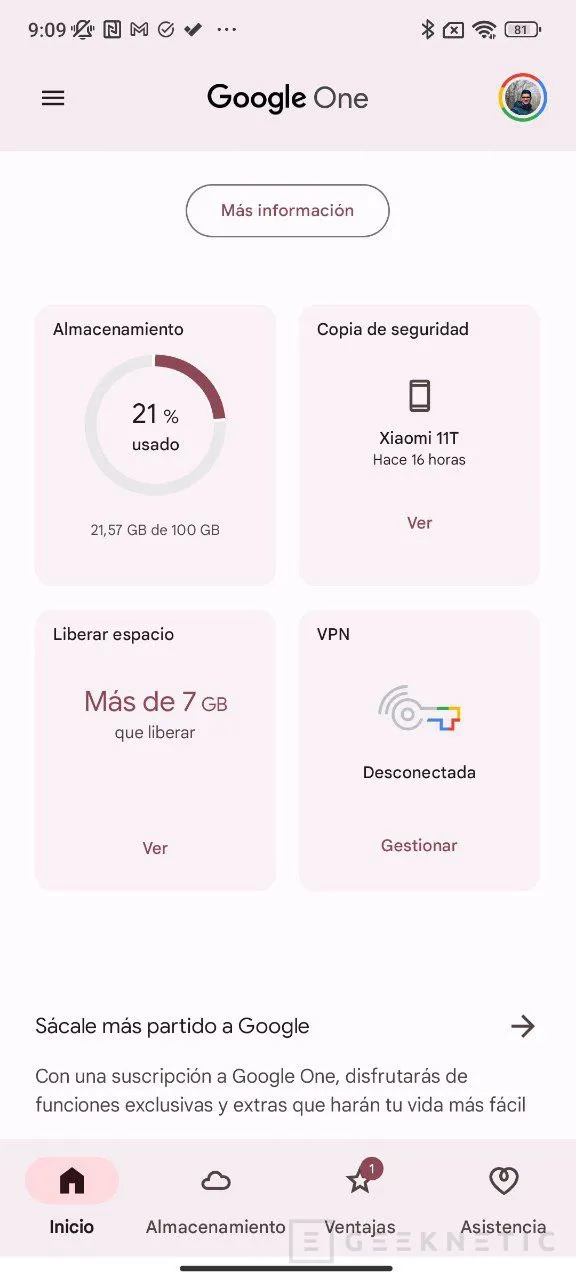 In section Google OneVPNclick on the slider that you will see next to Use VPN.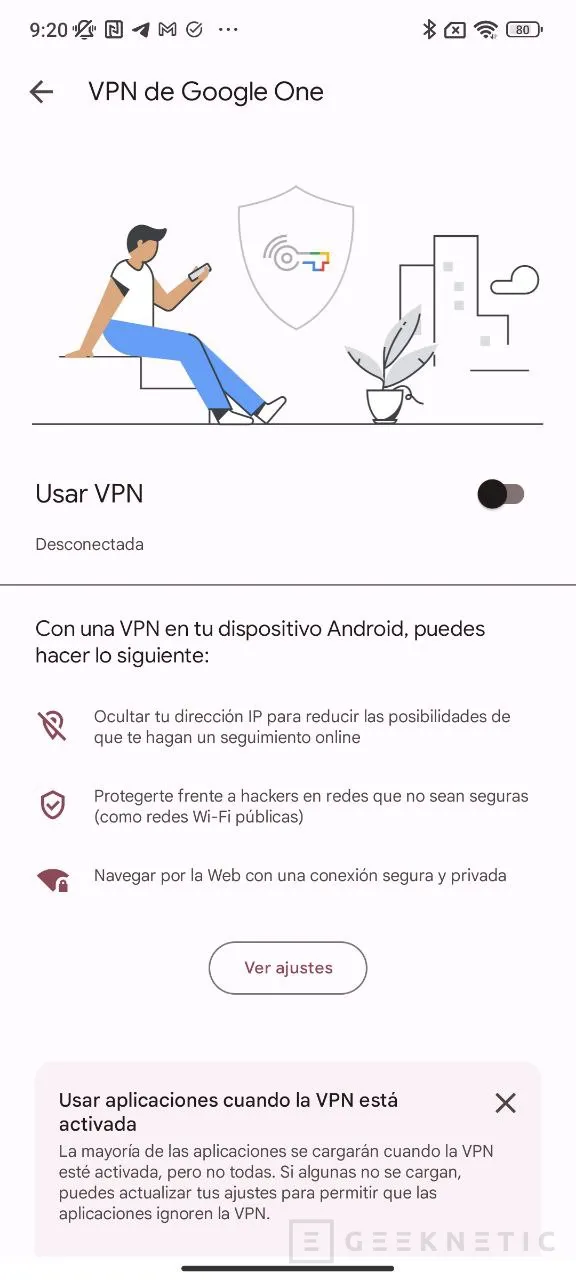 Immediately, VPN is enabled on the system. You may need to grant some additional permission for the app to set up the private connection on the phone as it is the first time. If you're trying to follow these steps on an iPhone, keep in mind that you must have iOS 14 or higher.
How to use Google One VPN on PC or Mac
Google One VPN is equally available for computers. You can install it thanks to an application available on Windows and macOS.
The requirements are the following:
windows. You must have Windows 10 or higher installed. Your computer needs a 64-bit processor. 32-bit or ARM architectures are not supported.
Mac. For Apple computers, macOS or later is required. Both Intel processors and ARM-based M chips are supported.
Once you have confirmed that you meet the requirements, go to the Google One official page and log in with your credentials. In section Advantages for subscribers, locate the section that talks about the VPN. Tap on See details.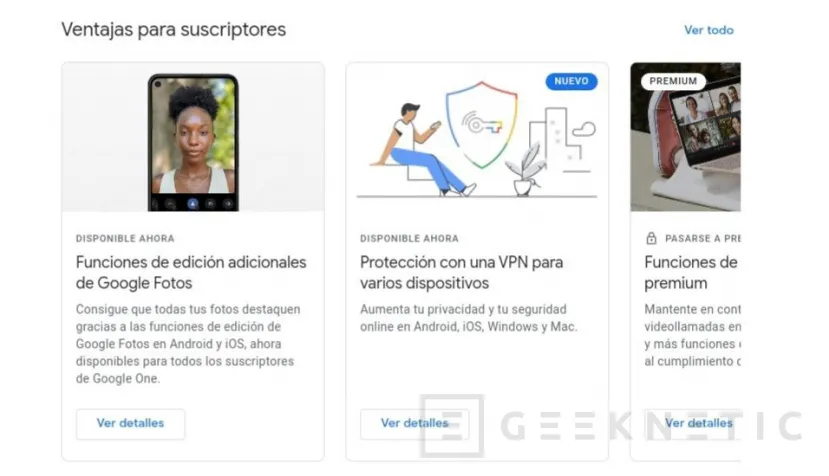 press on download app to get the installer on your computer. The most convenient version will be downloaded according to the operating system you have.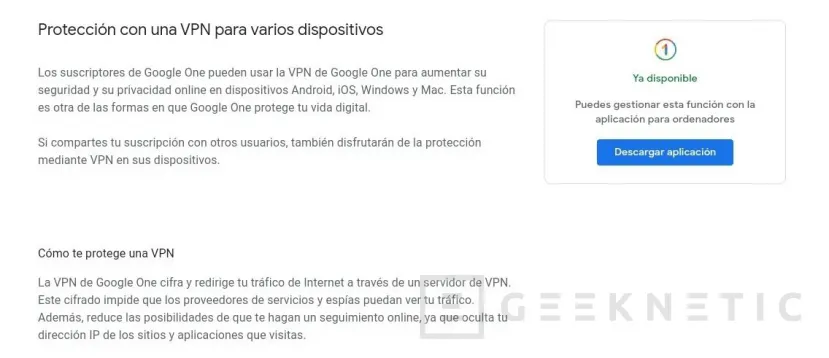 After installing the application and logging in with your account, your PC will already be working with the Google OneVPN. The program is configured to run when the computer starts up, so the service will be active at all times.
Is Google One VPN worth it?
As you can see, it is not difficult at all to install the Google One VPN on almost any device. Except for Linux, the company offers an automated solution to implement this service no matter what operating system you use. However, you may be wondering if Google One VPN is really worth using.
We must start by explaining to you that, if we focus on its functions, this is not one of the best VPNs you will find on the market. Why do we say that? Basically, because it does not have additional features, such as changing the location or optimization for content playback.
However, if we talk about value for money, it is a service that is worth it, especially if you are already paying for a subscription to Google One or are planning to do so in the near future. It does not have any type of limitation, neither in maximum speed nor in data transfer. It also provides an additional security layer, especially if you connect to public networks frequently.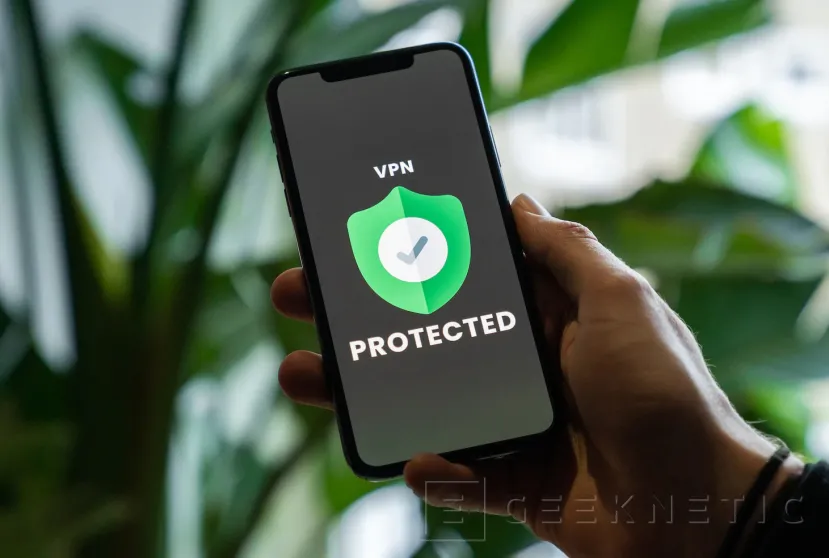 In the event that you have expanded your storage with the most basic plan, which costs 1.99 euros or 19.99 euros per year, you won't find a cheaper VPN service than this one that is free of those kinds of restrictions. Undoubtedly, the value for money is very good, especially if you don't need to change your location while browsing. But if all this seems little to you, as happens with account storage, you can share the service with up to 5 more users if you add them to your Google Family Unit.
Another aspect to review is real privacy. If your intention is to improve privacy, but you are concerned that the owner of the VPN is Google, according to the company itself, you can rest easy. If we stick to what is explained in the official documentationIt seems that this time they have done their homework. The service has undergone independent audits and its client libraries have been published on the web. That is, they are open source. Your activity is also not logged and your IP is hidden by default.
Now, despite everything the company promises, we cannot deny that its privacy policies are not the most respectful. It is up to you to determine if Google is someone you can trust when using a VPN.
End of Article. Tell us something in the Comments!