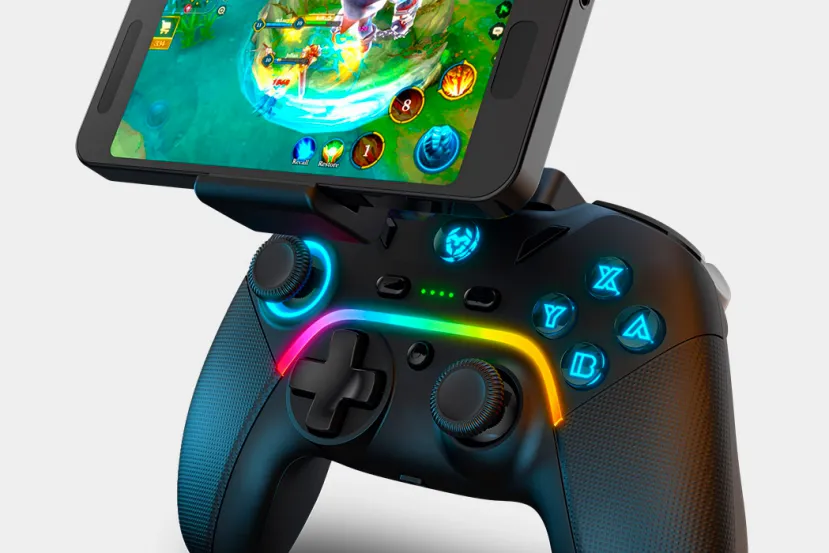 Krom has launched a wireless controller with RGB lighting and compatible with PC, Switch and iOS and Android smartphones.
Krom already has plenty of eye-catching, gaming-oriented peripherals in its catalogue: from headsets to mice, keyboards, and cooling pads. The new peripheral for the gaming world is the Krom Kayrosa control that is connected by Bluetooth 5.0 or wired to a lot of different devices. Both on PC and smartphones, and even on Switch we can use it with any video game we want. As it is also intended for smartphones, it includes the necessary support to hold the smartphone in command and that everything remains in one piece, which is more comfortable for gamers.
The controller features RGB lighting on a curved LED strip, and LED backlighting under the main buttons and left thumbstick. It has a layout similar to the one used by Microsoft on the Xbox ones and comes with included vibration adjustable in 3 levels of intensity. The battery life is up to 12 hours and its wireless range of 10 meters, more than enough for a good gaming session.
The command Krom Kayros incorporates a button that allows repeated pressing of some function, called Auto-Fire. In this way, you can select between 5, 12 or 20 beats per second for the A, B, X, Y, L and R buttons. In addition, the two rear buttons are configurable and allow the creation of macros. The price is 39.90 Euros but we still see it no stock on your website.
End of Article. Tell us something in the Comments!

Paul Lopez
At the age of 15 I started overclocking my PC to squeeze out every extra FPS I could in games and scratch a few milliseconds in SuperPi, while posting tirelessly about hardware on the Geeknetic forum as a user and reader. Surely they were so tired of continually reading me in the forum that I became part of the writing team, in which I continue to report on the latest technology. Astrophysics and PC gaming are the hobbies that, after hardware, cover most of my free time.