When we talk about instant messaging applications, we usually think of WhatsApp, Telegram or perhaps Messenger. And, although these are some of the best-known solutions, there are also others that, despite not having a huge amount of users in our marketThey are most interesting. Line is one of the most notable examples. Let's go back to its origins and try to see where it stands today.
Some applications become reality after going through lengthy processes of market analysis, planning, development, testing, and deployment, which often last months or even years. Others appear on the scene almost spontaneously and, as if that were not enough, they develop against the clock to meet a specific need. The story of the Asian messaging app fits perfectly with the second example.
Line, an application developed against the clock
Line's origins date back to 2010, when a company called Naver Japan, which was a subsidiary of the South Korean conglomerate Naver Corporation, decided to consolidate its presence in Japan, a market in which it had been for some time with a search engine, but which had not reached the expected commercial projection. The strategy to change that scenario revolved around the launch of two mobile applications.
Firstly, they would launch a client for a photo storage service and secondly, an instant messaging app. With this defined roadmap, according to Toyo Keizai, Naver Japan engineers got to work. In March 2011, a catastrophic event radically changed the company's plans. He earthquake and tsunami of that year left millions of people without electricity.
In addition, communication services such as calls and text messages began to fail. However, the WiFi networks and 3G communications they continued to operate in some regions. Faced with this reality, many Japanese turned to KakaoTalk, a simple messaging app that was taking its first steps in the country. Naver Japan's turn was dramatic: they would launch their messaging app first.
In the west, WhatsApp was experiencing a meteoric rise. It had been launched two years ago and, although it had had rather watery beginnings, it was already among the top 20 mobile applications in the United States, according to Forbes. All of this, it should be noted, before it was acquired by Facebook (now Meta) for $19 billion.
Returning to Japan, the Naver team had a big problem. He had devoted a large part of his resources to developing a photo application that would not finally see the light of day. Now the executives they asked urgently the launch of the messaging app. So, as recounted by Ayumi Inagakione of the people in charge of the project, began developing Line at full speed at the end of April 2011.
Line reached the market about two months after the start of its full-scale development.
After long work sessions, where the entire company team worked on one floor, Line was launched on the market in June of that same year, that is, about two months after large-scale development began. It was a free and lightweight application that would only serve to send and receive messages. Two months later, however, they would add a feature that KakaoTalk did not have: voice calls.
The number of Line users was growing rapidly, even as the devastating effects of the earthquake and tsunami were beginning to recede. Naver Japan did not hesitate to set up a big marketing campaign to further push the market penetration of its new, and partly unexpected, flagship product, slowly adding new features to it, such as a social feed and Instagram-style stories feature.
Line's exponential growth
Years after its launch, Line had millions of users and the Japanese had incorporated it into their lives. The company had increased its workforce to 550 employees in 2014, which allowed it to develop its business model based on other additions related to Japanese popular culture. The intention was clear: to attract their target audience, and to achieve this they put stickers at the heart of this strategy.
The stickers were introduced as a complement to voice messages to communicate feelings and were also quickly adopted by users. Of course, if you wanted to use certain stickers you had to pay. And business was not bad. By 2016, Line was already billing $270 million a year for this extra, which was added to revenue from paid games that were also offered through the app.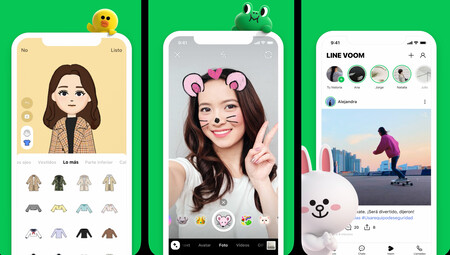 As we can see, Line quickly dropped the "messaging app" title to become a super app, something like an equivalent of the WeChat that was booming in China. It incorporated its own payment system, a taxi service, a news center, an online item-buying platform, a Spotify equivalent, and a medical service.
A few months after its launch, in December 2011, it already had 9 million users. Line did nothing but grow. In 2015 it surpassed the barrier of 100 million users, in 2017 that of 150 million and in 2020, according to company data, accounted for 194 million. Its target audience, however, is mainly in Japan, Indonesia, Thailand and Taiwan, with a marginal presence in other countries.
In the case of Spain, there is no data on the number of users who use Line, but Statista positions to the Japanese application in eighth place in the ranking of the most used messaging applications in the country, with a 2.5% market share. The podium continues to be made up of those known to almost everyone, that is, WhatsApp, Messenger and Telegram.
The truth is that Line has not disappeared. In fact, it continues to add users, but its numbers have been consolidated in the four markets mentioned above, which constitute more than 95% of users globally. Still, the app is available for download at Android and iOS, and all those interested in using it can do so, although of course, they may have to invite their favorite contacts to create an account with the messaging service in order to chat with them.
Images: lines
In Xataka: Matrix is ​​the Mastodon of messaging like Slack or WhatsApp. And it is a decentralized protocol with great allies