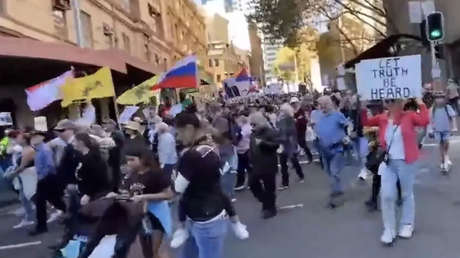 Published:
May 20, 2023 12:31 GMT

The protesters took to the streets of Sydney to show their solidarity with the creator of WikiLeaks, and also with banners with anti-NATO and pro-Russia slogans.
Hundreds of people participated this Saturday in a demonstration called in the Australian city of Sydney in support of the founder of WikiLeaks, Julian Assange.
various protesters they carried also banners with slogans against NATO and Australia's participation in the AUKUS coalition. Some carried the Russian flag as a sign of approval of Moscow's policies.
Julian Assange has been imprisoned since April 2019 in the Belmarsh UK maximum security prisonwhere he was detained after the then president of Ecuador, Lenín Moreno, allowed his arrest at the Ecuadorian Embassy in London.
The journalist is charged in the US for alleged conspiracy after publishing on WikiLeaks some 100,000 documents classified as "confidential" and another 15,000 as "secret", generated between 1966 and 2010, which had been leaked by US officials. they ask for him 178 years in prison for a total of 18 counts.
In June 2022, The British Justice approved his extradition to the US, a decision that was validated by the UK government.