Denise Brown is the UN High Representative in Ukraine and UN Humanitarian Coordinator in that country.
Headquartered in the capital, kyiv, it works alongside some 20 UN agencies with some 2,600 employees, mostly Ukrainians.
One year after the large-scale Russian invasion of Ukraine, Brown spoke to UN News about the challenges of supporting communities in a country at war.
"Conditions have been quite difficult in the last year and we have had to adapt to some extreme circumstances.
The sound of air raid sirens is constant, which means we're rushing in and out of the bunker all day. In the last 12 months we have calculated that we had spent more than a month there holding meetings of all kinds, including with the country's humanitarian team or with UN member states.
Supporting the Ukrainians
Our days here are regularly unpredictable. There is no typical day, but I remember one clearly, it was October 10, when the center of kyiv was bombed by an airstrike at 8:20 am just 1.2 kilometers from my office. When I heard the explosion and the office started to shake, I thought: Oh! Now would be a good time to enter the bunker.
Our main focus is to support the Ukrainian people, especially with the delivery of relief items. We work as close to the front as possible, which requires careful planning and coordination.
I regularly visit frontline communities because I am very insistent that UN personnel be involved in the most difficult renditions. We have the capacity, experience and resources. So, we spend a lot of time in places like Kherson, but also in different communities in the Kharkiv, Zaporizhia and Donetsk regions.
Hopes were high in November when Kherson was retaken by the Ukrainian government. Three days later, we were there and it was quite moving. There were people in the streets, waving at us as we drove into the city with trucks full of supplies.
But several months later, as seen last week, there were continuous airstrikes in the center of the city and many civilians were killed; volunteers have also been killed and aid workers injured. It seems that this will never end in Kherson.
But also, what will never end in Kherson is the strength and hope of the people who remain there and those who have told me that they are not going to leave. This is a true testament to the strength, conviction and resilience of the Ukrainian people.
rebuilding communities
In January I traveled near Soledar, and along the highway I saw communities that have been completely devastated. I am convinced that the determination of the people of Ukraine will see these towns and communities rebuilt, even if it takes a long time. The courage and determination to make that happen are very prevalent here. It is something that impresses me in all the places I visit.
Since I arrived, I have spent time talking to people in the communities I visit, meeting to meet and talk with volunteers, local authorities and mayors.
I think there are maybe two people, both women, that I remember very well: the mayors of Kherson and Orikhiv, which is about three kilometers from the front line, in the Zaporizhia region. I was on the ground for less than three hours and we counted at least 20 attacks from five to ten kilometers away. They are constant explosions.
The mayors have decided to stay there and are working tirelessly, taking care of their communities and are our main interlocutors with whom we are in constant communication.
During that trip to the communities near Soledar, I also met a fantastic woman, a doctor. She took me to a clinic that she has set up in her own house after the community health care center was attacked. She told me how determined she was to stay there and support the people who stayed.
So these are brave women that I think I will never forget.
humanitarian needs
The war continues and intensifies, so we can reasonably expect that the population will continue to be affected. This is a humanitarian crisis, although calling it a crisis seems very insignificant compared to what is actually experienced on the ground every day.
There is no main need, but many. The most serious situation occurs near the front line, where houses are leveled and dispensaries destroyed. A clinic I visited in the Kharkiv region was destroyed a month after my visit.
These communities need it all, so we are very committed to delivering relief items. We are also very focused on the psychosocial trauma suffered by children in particular, but dealing with them becomes more and more difficult the closer we get to the front line.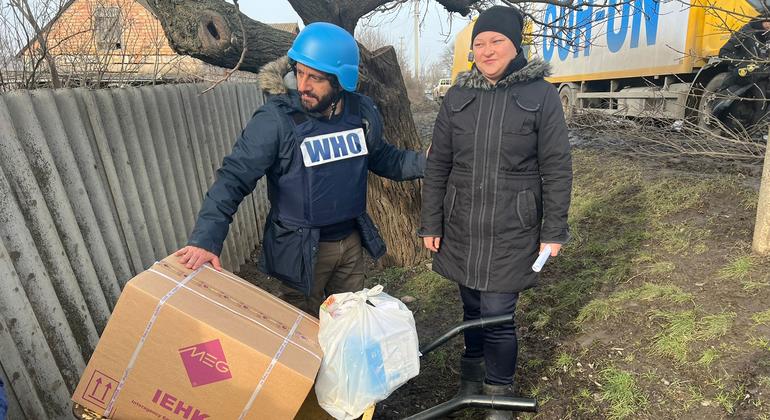 On the other side of the front line
We have access to all Ukrainian-controlled territory, but we have extremely limited access to the front line. Since February 2022, no humanitarian truck has been able to cross between the two areas. We have very regularly requested access to both the Ukrainian and Russian Defense Ministries, and while we consistently receive positive responses from Ukraine, we have yet to receive a similar response from Russia.
It is essential that we have access through that front. We will be ready to go tomorrow if we get the green light but security guarantees are needed.
It is imperative and extremely urgent to send supplies and assistance to the people who live on the other side of the front line, who I am convinced are in dire straits.
The suffering continues and until the war is over we have to continue to support the people of Ukraine who are experiencing the horrors caused by the invasion.