TSMC has presented your new 3DFabric Alliance as part of the Open Innovation Platform (OIP). This is the sixth Alliance of TSMC that intends improve the semiconductor industry giving access to new technologies to all its customers. Now it will also offer, through this Open Innovation Platform, a comprehensive family of advanced 3D stacking and packaging technologies that will allow to offer greater performance in increasingly demanding applications both in home use and for HPC.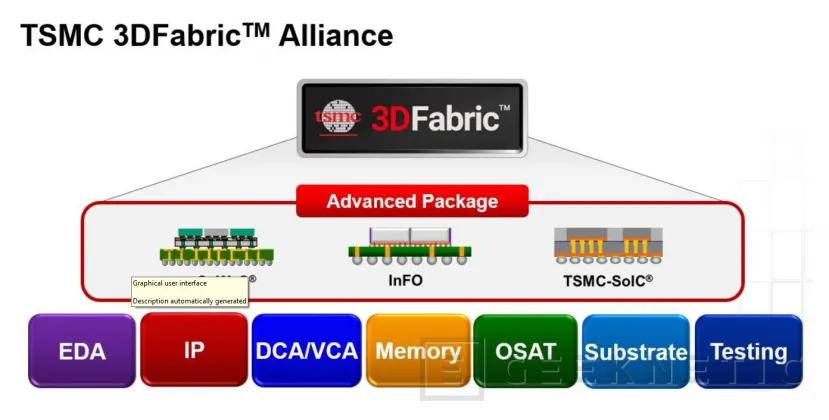 amd is a pioneer in this type of technology and has worked together with TSMC to offer the first TSMC-SoIC based processors with very good results. TSMC 3DFabric offers early access to Alliance partners, where they can take advantage of new 3D packaging techniques for your products. Other manufacturers like Amazon or NVIDIA have already used these technologies which includes CoWoS, Info and TSMC-SoIC.
TSMC 3DFabric is a complete set of technologies that will help throughout the process, thanks to this new packaging system the most sophisticated and innovative designs of manufacturers to address problems as present today as AI, cloud computing or big data analysis. TSMC already has the first automated factory for 3DFabric in TaiwanTSMC-SoIC and InFO operations can be performed on it along with advanced tests.
End of Article. Tell us something in the Comments!
Juan Antonio Soto
I am a Computer Engineer and my specialty is automation and robotics. My passion for hardware began at the age of 14 when I gutted my first computer: a 386 DX 40 with 4MB of RAM and a 210MB hard drive. I continue to give free rein to my passion in the technical articles that I write in Geeknetic. I spend most of my free time playing video games, contemporary and retro, on the more than 20 consoles I have, in addition to the PC.