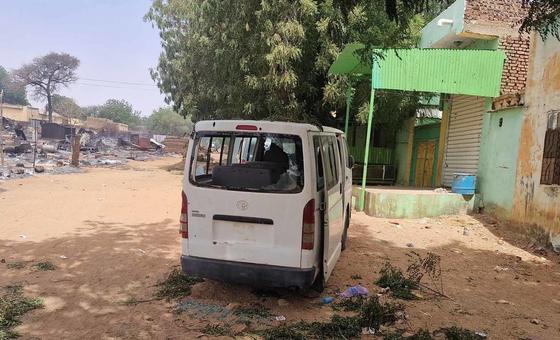 He World Food Program (WFP) announced Monday that it will put an immediate end to the temporary suspension of its operations in Sudan and will restart the distribution of food in the states of Gedaref, Gezira, Kassala and White Nilewhere many people desperately need life-saving assistance.
The suspension of relief work began after the death of three agency employees on April 15 in the midst of violence between the Sudanese army and the Rapid Support Forces. The deceased workers were carrying out rescue tasks in the town of Kabkabiya, in the state of North Darfur.
The executive director of the WFP, Cindy McCain warned that the current crisis in sudan pushes millions of people into hunger and explained that the resumption of relief operations will be done in places where access for humanitarian teams is assured and taking into account their capacity in each area.
The situation is still very precarious"We will take the utmost care to ensure the safety of all our staff and partners as we rush to meet the growing needs of the most vulnerable population," McCain said, stressing that the solution is for hostilities to cease immediately.
Before the current wave of violence, there were already more than 15 million people severely food insecure in Sudan and WFP the number is projected to rise as the fighting continues.
More than 800,000 people could leave the country in search of safety
Agencies on the ground have reported that tens of thousands of people have moved since the start of the fighting in search of safety. Much of that population has fled Sudan to the Central African Republic, Chad, Egypt, Ethiopia, Libya and South Sudanwhere they seek safe haven often among already vulnerable communities.
The UN Refugee Agency (UNHCR) works with host governments and supports local partners in trying to meet the immediate needs of those who flee and arrive in a deplorable situation and with urgency of attention of different type.
UNHCR head Filippo Grandi warned today that there is a possibility that more than 800,000 people will leave the country for neighboring nationsTherefore, it prepares for such an eventuality together with the governments involved and other partners.
Despite these forecasts, Grandi pointed out in a tweet that He hopes that it doesn't get to that extreme. although if the violence does not stop, more people will be forced to leave Sudan".
The humanitarian coordinator is in the region
For his part, the UN humanitarian coordinator, Martin Griffiths, arrived in Nairobi, Kenya this morning to speak with the country's president and with leaders of various African nations on the crisis in Sudan and explore ways to bring life-saving assistance to the population.
Griffiths has described the situation in Sudan as "catastrophic" and, before leaving for the region, declared that it is imperative to "find a way to get aid to the country and distribute it to those most in need.