according to the latest leaksthe next processor Google Tensor G3 that will integrate the Pixel 8 will mean a considerable performance leap compared to previous generations. However, it will not adopt the latest ARMv9.2 architectures from ARM that we have recently met with the Cortex-X4, Cortex-A720 and Cortex-A520 coresbut the Google Tensor G3 will stay in the current generations with Cortex-X3, Cortex-A715 and Cortex-A510 under the ARMv9 architecture.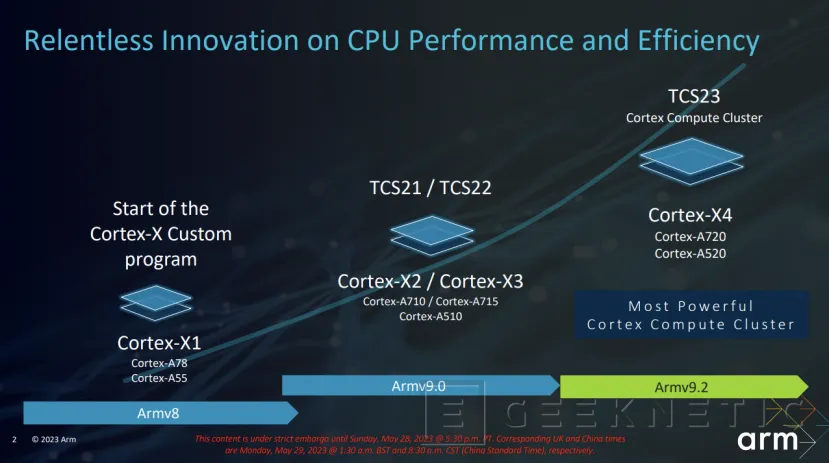 Tensor G3: 9 ARMv9 cores with one Cortex-X3, four Cortex-A510 and four Cortex-A715
Specific, the Tensor G3 will be a 9-core processorwith four low-power 2.15GHz Cortex-A510, another four 2.45GHz Cortex-A715 for sustained multi-core performance, and a latest 3.0GHz Cortex-X3 core for high-performance tasks on a core.
Therefore, the core cluster layout changes from the Tensor and Tensor G2 are evident, as these earlier models switched to 8-core configurations consisting of 4 low-power cores, 2 multi-core performance cores, and 2 performance cores. high power of the X range.
The GPU will be ARM Mali-G715 immortalis, possibly with 10 cores at 890 MHz and technologies like hardware ray tracing. In addition, it will have support for high-performance UFS 4.0 storage like the one we saw in the last ASUS ROG Phone 7 Ultimate.
It will be necessary to see how the Google Tensor G3 is positioned with respect to the competition and if it will be able to compete face to face with the most powerful solutions on the market when it arrives in the next smartphones Google Pixel 8.
End of Article. Tell us something in the Comments!