Roaming beyond the European Union
Years ago we announced the arrival of "free" roaming in most of the European countries. There is no doubt that this has greatly simplified things for travelers who, from Spain, have crossed the border to France, Portugal and other states of the old continent. However, there are other destinations that are recurring and that are not covered by this benefit. One of the most important is USA. What options do you have in that case?
In this article we are going to tell you about the options you have to travel to the United States with mobile data. Thanks to these solutions, you will be able to keep in touch with your friends and family without getting scared at the end of the month. Each of the options that we propose are ideal for a type of user, something that we will analyze in the last section of this guide, either by using a specific rate from the operator, cheap eSim services for travel like Holaflyor bear the roaming costs of the operators for example.
For now, let's look at four ways to travel to the United States and stay connected to the Internet on your mobile phone.
Option 1: Use your operator's free roaming rate for the US
Let's start by talking about the simplest way to have data when you travel to the US. We mean that you national operator provides you roaming USA at no additional cost or for a small fee.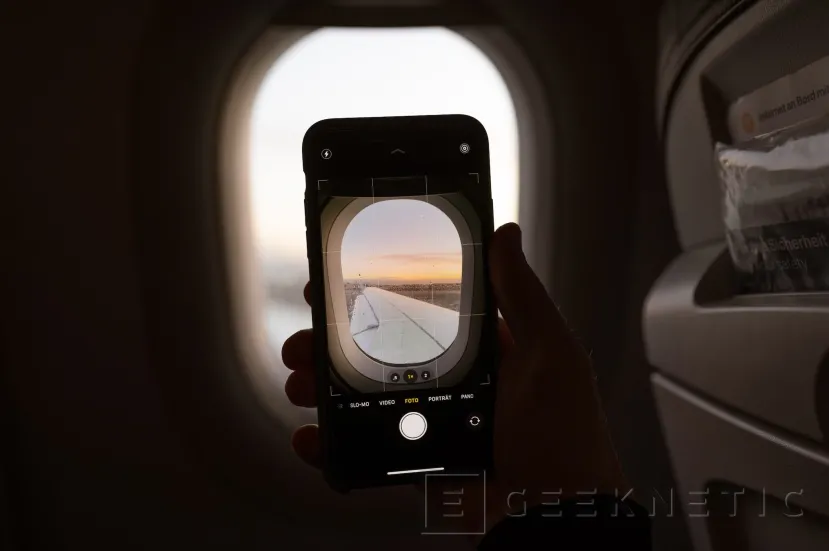 Although these conditions change over time, right now in Spain there are three examples that well illustrate the two existing possibilities:
Movistar. It offers a bonus of 6.05 euros that allows you to have 500 MB per day. When the limit is exceeded, the company charges a new bonus to the client. Having it is a good idea if you plan to relegate the connection to the background and prioritize Wi-Fi networks.
MoreMobile. This operator applies the same conditions of European roaming to travelers going to the United States. If you are a client of theirs, verify that this is the case from their support page before traveling, in case they have modified their conditions.
vodafone. Another company that has decided to cover its clients when they visit the US without changing their rates. That is, you will pay what you already have contracted in Spain.
The main benefit of opting for this option is that you do not have to contract any additional service, either from your country of origin or when you arrive in the US. And, if your operator maintains the national rate, you do not add additional expenses to your trip either.
Option 2: Get a Holafly eSIM
Let's talk about holafly. It is a company that offers virtual SIM cards (eSIM) to have data in the US and other destinations.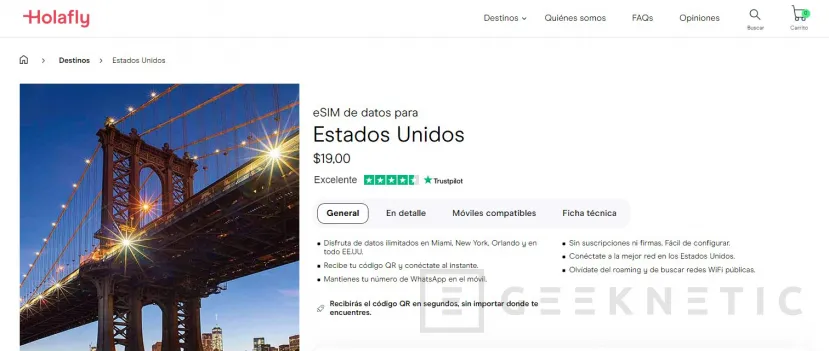 What are the characteristics of this service? Let's take a look at the most important ones:
data only. Holafly bonuses are for internet browsing only. That does not mean that you cannot call, but you will have to do it through applications, for example, creating a link through WhatsApp and inviting your contacts.
4G speed. Having enough speed is relevant to almost everyone. Without going any further, broadband makes things much easier for you when it comes to sharing the Internet with your PC or making video conferences.
unlimited rate. With different, the most outstanding advantage of Holafly is that its offer is made up of unlimited bonuses. This means that you are freed from the pressure of not exceeding certain limits when browsing or checking your messages.
email reception. Holafly only provides its customers with eSIMs. So you can contract the service now, receive the connection data comfortably in your inbox and activate the service at the most convenient time.
Competitive prices. The subscriptions offered by this operator are flexible and range from $19 to $99 for periods between 5 and 90 days.
And what are the disadvantages? The truth is that what Holafly proposes is quite attractive, but it has a drawback: not all mobiles are compatible with eSIM. Before choosing this option, you must make sure that your device works with virtual SIM cards.
Option 3: Buy a SIM card upon arrival
The third alternative you have is buy a SIM card when you arrive at the airport. As for the operators, the most recognized are AT&T and T-Mobile. However, they are not the only ones and our recommendation is that you compare the options you have before traveling.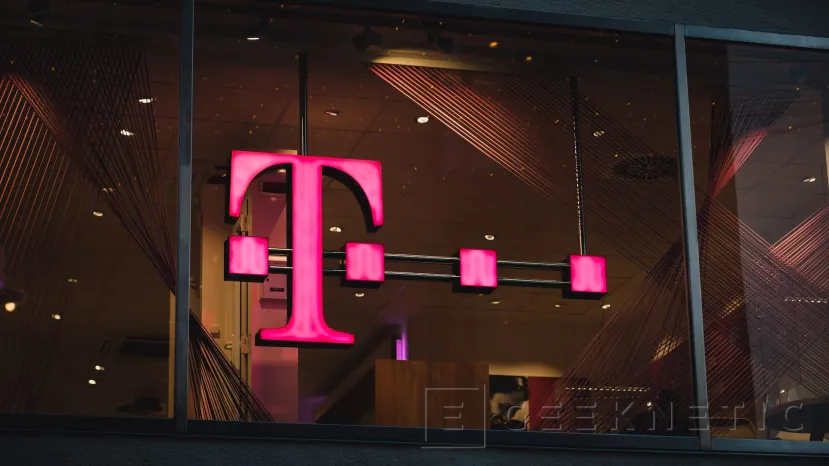 Taking as a reference one of the most important airports in the United States, the John F. Kennedy International Airport (JFK), you will be interested to know that you will find SIM card self-sale machines there. Additionally, it has several stores of the main operators.
Acquiring the SIM card to navigate in the US directly at the airport has one good thing and another bad thing.
Advantage. The plus point is comfort. Store hours are extensive. But even if you arrive at a time when the establishments have closed, the automated points of sale will help you.
Disadvantage. The bad part is that the value for money is usually very bad. Normally you get a rather low data share clearly disproportionate fee. Some expert travelers recommend that the ideal is to go to the hotel, which usually has Wi-Fi, and buy prepaid sim card in the city. Oh, if what worries you is being able to notify your family and friends of your arrival, don't forget the airport's public network, more than valid for sending a message via WhatsApp.
Option 4: Search for public networks and reserve roaming for emergencies
The last option that we propose is to search for public Wi-Fi networks and use paid roaming at very specific times. Generally, This is an ideal possibility if the idea is to spend a short time in the United Statesperhaps because you are only going to make a stopover or you are only going to attend a short event.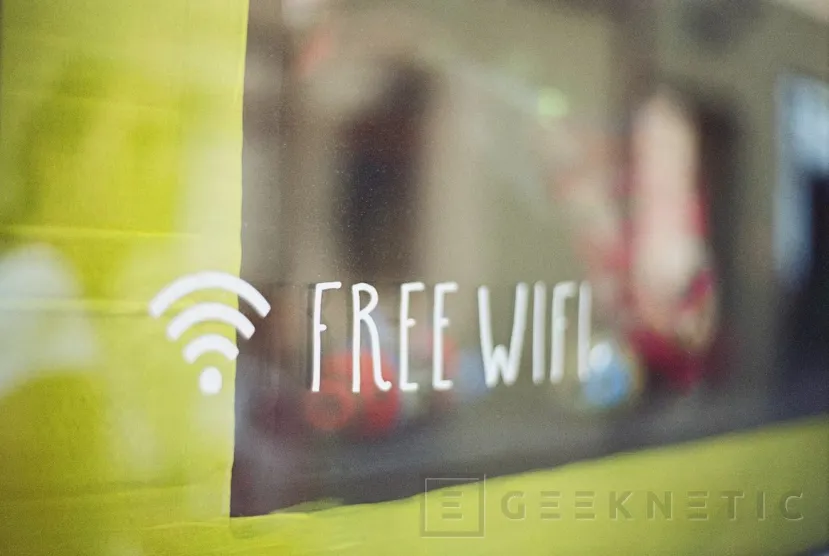 Despite the appeal of not having to spend anything to have Internet (except if you suffer a mishap and activate roaming), there are some considerations that must be taken into account:
Public Wi-Fi networks are dangerous. Some disadvantages of open networks are in the past. This is the case of the connection speed, which is getting better and better. Unfortunately, the main negative point of a public Wi-Fi remains: it is very insecure. Anyone with the right knowledge could steal the information you send or even break into your computer. If you have traveled to the US for work and you are going to take advantage of the airport or hotel network for company tasks, it is best to install one of the best free or paid VPNs to ensure privacy.
Paid roaming is usually very expensive. And remember that you are going to need the Internet for almost everything. Imagine that you get lost and have to make a brief query on Google Maps. Or that you have to send an urgent email and there are no public networks nearby. In cases as simple as these, you will pay a lot on the next bill if you roam.
Bottom line: Relying on open Wi-Fi networks may be an option in very specific circumstances, but not for someone wanting to spend time in the United States.
What is the best way to have data when traveling to the United States?
After all the above, it is time to answer what is the way to have mobile data in the US.
And the answer is… it depends on the type of trip you do. Let's analyze three frequent cases:
Your company includes free roaming for the United States. It does not matter if you are 3 hours or 3 months. In this case, it will always help you to keep your original rate.
You are going to spend a few hours. In that case, do not hire anything. Connect to the airport Wi-Fi, using a VPN if the tasks you are going to carry out with your devices are critical.
Your operator offers you a bonus to navigate "cheap". These bonuses are not usually profitable compared to options like Holafly, as they come with very low data limits.
In conclusion, depending on the type of trip, one alternative or another will be more convenient for you. Of course, all of them provide you with data in the United States.
End of Article. Tell us something in the Comments!