Drenched in sweat and carrying a bag with a tent inside, Wilmer, a 26-year-old Venezuelan farmer, arrives in a narrow wooden boat in Bajo Chiquito, Panama, after a five-day journey through one of the most dangerous and overwhelming migration routes from around the world: the Darien Gap.
Behind and in front of Wilmer you can see about twenty boats in single file with about 16 men, women and minors on board, emerging from the jungle along the muddy waters of the Turquoise River. These boats have covered approximately 15,000 square kilometers of jungle, jagged mountains, raging rivers, swamps and insect bites that stretch on both sides of the Colombia-Panama border.
Even for Wilmer, who is young and fit, the trek was truly a test of endurance.
"The trip was extremely difficult; I could hardly sleep. Look at me, I am in good physical condition and still my life was in danger. Imagine what it is for pregnant women or minors. It is an extreme challenge. I do not recommend crossing it on foot", he says as he remembers the moment in which he jumped into a turbulent river to rescue a Haitian boy who had been swallowed by the current.
Wilmer left Maracaibo, on the Caribbean coast of Venezuela, with five friends and $450, the equivalent of a year's family savings, hoping to find a better job in the north and to help his parents and three brothers who had left behind.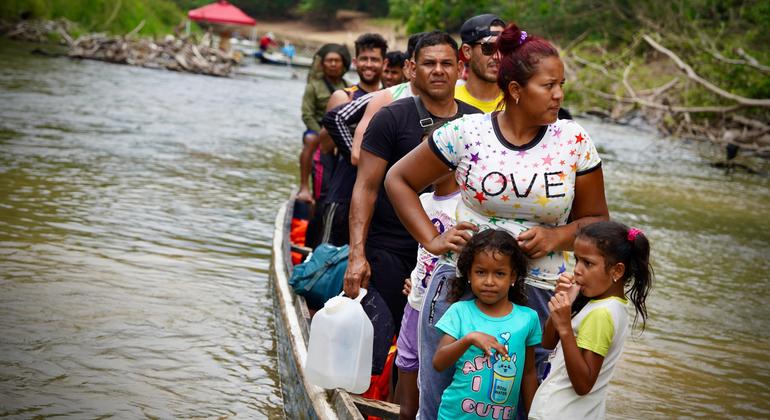 Each migrant person represents a life full of difficulties. During the long journey through the jungle, minors and families are exposed to multiple forms of violenceincluding sexual abuse and exploitation, lack of clean water and food, attacks by wild animals and flooded rivers.
increasing efforts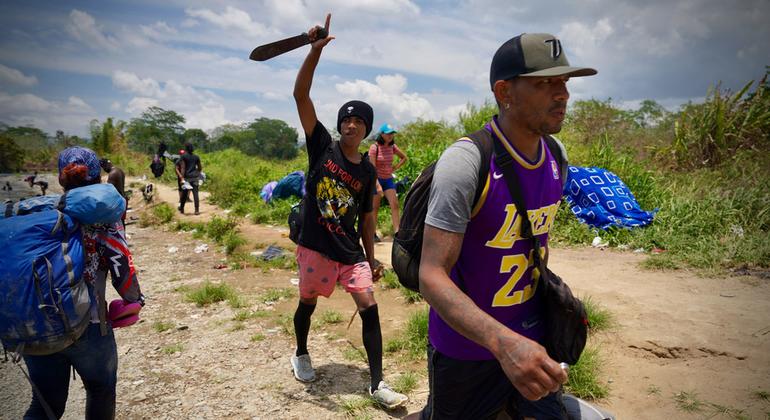 According to statistics from the Government of Panama, from January to April 2023 a record number of 148,000 people crossed the Darién. Whether they are fleeing violence or poverty, with the dream of a better life, a good job, and the opportunity to send money back home to relatives they have left behind, all of this spurs them to embark on this dangerous journey despite the countless risks that await them.
Over the years, the Darién has become a regular transit point for migrants heading north. The most recent figures for 2023 far exceed the high numbers for 2022, the year in which 258,000 people crossed it. Many are poorly equipped for the journey, which usually lasts from two to ten days. and in which at least 137 migrants died or disappeared last year, according to data from the Disappeared Migrants Project.
The International Organization for Migration (OIM) works with the Panamanian Government and is redoubling its efforts to provide humanitarian assistance, protection and information to people in transit. The UN agency also supports remote indigenous communities that receive such people, increasing its presence on the borders with Colombia and Costa Rica, as well as Panama City.
"The number of migrants crossing the Darien Gap has surpassed all records this year. They face many risks during their journey through the jungle, often showing signs of physical and mental trauma. IOM is there to support the Government of Panama in the task of covering the basic needs of migrants, such as accommodation, protection, information and psychosocial support," said Etzaida Rios, IOM Community Outreach Officer in Darién.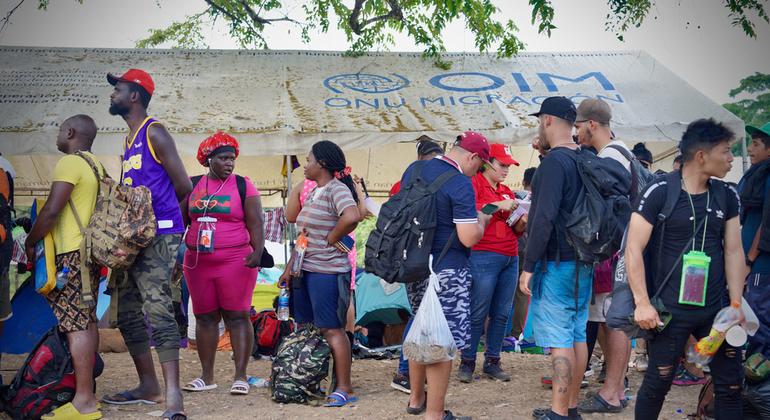 despite the challenges what it means to receive them, migrants are welcome in the communities through which they pass. "The flow of migrants has overwhelmed the capacity of the community in terms of providing basic services in response to their specific needs, but we do what we can to help these people," says Nelson Aji, Community Leader in Bajo Chiquito, an indigenous community Embera-Wounaan from Panama with just over 300 people that currently receives more than 1,000 migrants in transit per day; however, the flows vary throughout the year.
Under a scorching sun, dozens of exhausted migrants find some relief as they set up their community tents and fire up campsite stoves to cook themselves something, while others plunge into the nearby river and wash the mud off their arms, feet and legs.
a real nightmare
"It was a real nightmare but I have done it. I managed to survive the Darien jungle but many other people did not. The smell of decomposing bodies… that smell, I can't forget it. I've been robbed. In my group, a woman was killed for resisting rape. I couldn't do anything to help hersaid Antonio, 56, sweating profusely and still short of breath as he took his last steps before entering the community, exhausted, hungry and dehydrated, dragging a heavy backpack through the jungle. He left Haiti escaping violence and poverty and hopes to one day be reunited with one of his daughters who is living in Miami.
The dreams and hopes of migrants from three continents converge in this dangerous jungle, united by the same destiny. Some of those people left their homes years ago to start a new life in South America. But due to socioeconomic disparities, limited access to regularization alternatives, stigmatization, discrimination, and the consequences of the COVID-19 pandemic, they lost their jobs. Now they are faced with non-viable options, such as remigrating.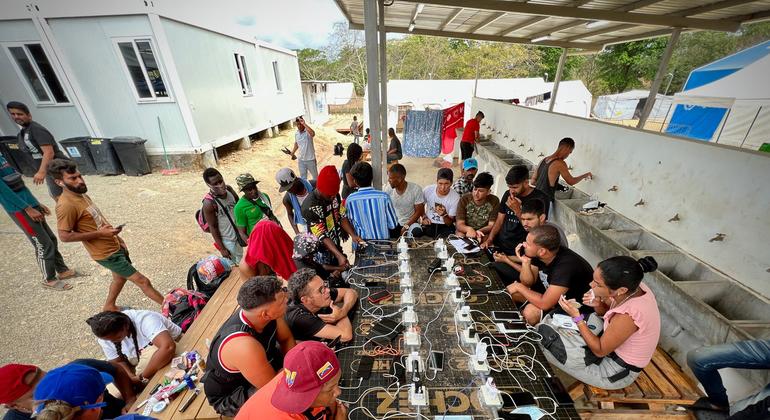 Among the migrants who have just arrived is Angelis, 22, an Ecuadorian mother traveling with José, her Venezuelan husband, and a one-year-old child. They sold everything they had to buy food and had to hitchhike from Ecuador for a good part of the journey.
"Our guide left us alone after we paid him. We walk alone with a baby for 12 hours every day. We still have a long way to go and we don't have any money left," she said through tears, recalling the family's trek through the rainforest. "I would not advise anyone to cross that jungle, no matter how big their dreams are.. And much less that they do it with a creature. One thing is what they tell you and another thing is to live it in your own flesh". They hope to be able to reunite with relatives who are already living in the United States.
forty nationalities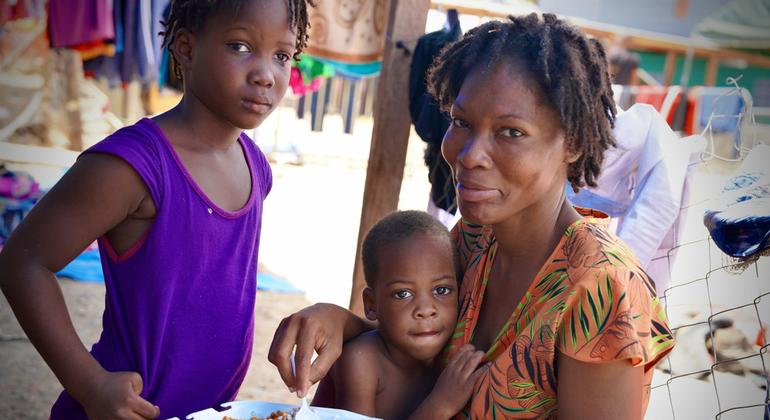 There is also a group of young people from Pakistan. His journey began three months ago; they left the capital of Pakistan by air. "It's a long journey," Chaudhry said, adding that he hopes to join his other siblings who are already living in California. "It is difficult to live in Pakistan, and there are no opportunities for young people", he says moved.
Fikru, a 38-year-old construction worker from Eritrea, worked in Brazil as a painter for several years before making the decision to head north. He hopes he can get a better job and send money to help his family. "My American dream is to help my family so that my children can fulfill their dreams.", said.
Migrants of more than 40 nationalities have crossed the Darien Gap this year. They come from American, Asian and African nations such as Venezuela, Haiti, Ecuador, China, India, Afghanistan, Cameroon and Somalia. Most of these migrants are from Venezuela but there has been an increase in the number of Haitians, Ecuadorians and Chinese.
"There are better opportunities outside of my country. We all seek to prosper and the possibility of a better life is there. My goal is to buy a house in Haiti for my wife and children," Antonio said as he rested on the riverbank and thought about the next stages of his journey.
This story was written by Gema Cortes, IOM Press Unit, Office of the Special Envoy for the Regional Response to the Situation in Venezuela.