When years ago the company Heerema Marine he had to name his new crane boat, an immense mass capable of lifting enormous loads in the middle of the ocean, he decided to go for a Nordic epic. To operate the ship, she relies on eight large columns, so —those responsible must have reflected— why not call it Sleipinir, same as the mythical Odin's steed. After all, both have eight legs, both are powerful, and both were conceived—one in the realm of legend, the other on the engineers' table—to draw grimaces.
No sooner said than done.
With you, SSCV Sleipinir. The image of her impresses, but not more than your technical sheet. The SSCV Sleipnir is a semi-submersible crane vessel —hence the SSCV tagline— with a wide reinforced deck that reaches 220 meters in length and 102 m in width. The draft of it moves in a range of between 12 and 32m and the vessel can cruise at a speed of around 10 knots with more than 400 crew members on board.
If Sleipinir stands out for something, however, it is for its ability to lift and handle enormous loads. For this purpose it is equipped with two cranes designed by Huisman, machines capable of lifting 10,000 tons each. By working in tandem they can handle weights equivalent to 20,000 metric tons.
Created to be the Hercules of the seas. Thinking precisely about the work that it should develop, SSCV Sleipnir was created as a platform equipped with eight columns of 23.75 m high – according to OneStep Power – and that are distributed symmetrically from bow to stern to provide it with greater stability while handling large loads in rough seas. The structure also has two submerged pontoonsone located on each side, which facilitates its flotation.
And why is it interesting? Due to its capacity, which often leads it to be presented as the largest semi-submersible crane vessel (SSCV) in the world. That's how I announced it in fact Heerema herself, who stick out chest with any of the feats he has accomplished since he left Sembcorp Marine Tuas Boulevard Yard and started working in 2019: in September of that same year he managed to break a record by lifting part of the upper part of the leviathan platformof 15,300 tons.
Months later he withdrew a jacket of more than 8,000 tons of the Jotun-B platform in the North Sea and about three years ago made a new demo capacity by removing the deck from Shell's 10,100 metric ton Brent Alpha. Not everything has been dismantling on his service sheet. Sleipnir too participated in the installation from the processing platform Johan Svedrup P2handling a structure of more than 12,000 tons.
Designed to dismantle and build. "The vessel can install and remove jackets, topsides and modules. It can also install foundations, moorings and structures in deep water," details Heerema, which features Sleipnir as "the largest and most sustainable SSCV". That's how I identified it in 2022 OffShore Energy reporting how they had removed a rig with a single lift.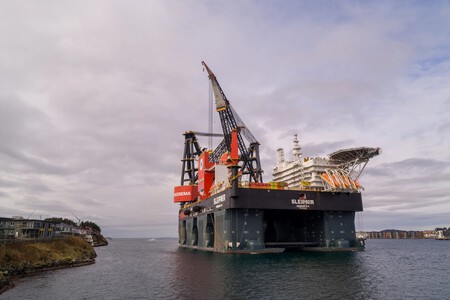 Powerful… and sustainable. That is the second idea in which the Dutch firm affects. And it does so because of Sleipnir's ability to operate with liquefied natural gas. "The ship can run on LNG, which reduces emissions. It is also equipped with LED lighting, a heat and cold recovery system, variable frequency drives, anti-fouling paint and connects to our renewable energy network when moored in the port of Rotterdam," stands out.
precise sembarine which is dual fuel and cites, in addition to LNG, marine diesel (MGO). "The Sleipnir is self-propelled and has a minimum service speed of 10 knots, with power generated by means of dual engines: marine diesel and LNG. Navigation is done with dynamic positioning or a mooring system", brings. The ship also incorporates 12 generator sets 8 megawatts (MW) and eight 5.5 MW propulsion motor units.
Records also in the guts. The Sleipnir not only aspires to capacity or weight load records. That philosophy is carried even in the "guts", as claims Wärtsilawhich also boasts of its contribution to the project.
"Dynamic positioning is critical to their operations. To ensure this, Wärtsilä developed four 5,500 kW WST-65RU retractable bow thrusters specifically for this project, the largest retractable thrusters ever made. They feature a unique combination of retractable functionality and underwater mounting. The thrusters installed at the stern of the vessel are 5,500 kW WST-65U, steerable and underwater mountable."
A titan among titans. SSCV Sleipnir attracts attention with its enormous dimensions and enormous capacity. Its cranes have 144-meter jibs equipped with a slewing system that reinforce their versatility and bearings thatn 2017 Huisman claimed like the greatest in the world. That does not mean that in the oceans we cannot find other structures designed to lift heavy weights. Not long ago in Xataka we actually talked to you about the no less impressive Hyundai-10000, a semi-submersible floating crane that in 2021 It came to handle a cargo of approximately 9,100 tons.
What is the difference between Hyundai-10000 and SSCV Sleipnir? His, her nature. In the world of floating cranes there are two main categories: the semi-submersible with a fixed point and the type shearleg, which are supported on a barge. The Hyundai-10000 would be the largest among the latter group. The capacity is greater, however, when semi-submersible cranes with platforms are handled, such as the Heerema one, with a lifting capacity of 20,000 metric tons.
Images: heerema
In Xataka: Pioneering Spirit: the largest construction ship in the world is a hyper-technical mass for the high seas