The program will be taught by the Department of Design and Manufacturing and is aimed at technicians, engineers, designers and professionals in the area.
Paula Arancibia, Communications Department.- In order to expand knowledge and opportunities for improvement and training, the Department of Design and Manufacturing of the USM, together with the General Directorate of Technical Assistance, will launch the new Diploma in Automated Manufacturing Processes. In it, participants will be able to analyze a production system or a specific process, define variables and critical points to study and propose alternative technical solutions focused on the modernization and/or automation of processes.
The Director of the new program, Mario Salinas, explained that "the diploma is aimed at technicians, engineers, designers and professionals who develop in the manufacturing area, who are interested in developing skills and knowledge to automate processes."
The context of this new Diploma is part of the current industrial processes where there are various technological options that simplify repetitive or highly dangerous processes, which are more appropriate for automatic machines than for human operators. For this reason, large, medium and small productive companies have within reach today, various options according to their size, which allow them to improve, accelerate and finally optimize their processes, with costs according to each scale. On the other hand, the technical knowledge to access these automation devices has been significantly simplified, conditions that favor and encourage the incorporation of these applications.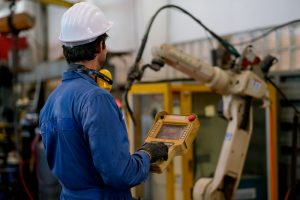 The study program, which will last 132 hours divided into 14 weeks, will be taught in blended learning mode -with the support of the ZOOM online platform- and in person at the laboratories of the Department of Design and Manufacturing of the USM in Viña del Mar. .
8 modules are contemplated: Introduction to process automation; PLC or Programmable Logic Controllers; Pneumatic Systems; Hydraulic systems; robotics; Technical and economic feasibility of the process automation project; Arduino, and Comprehensive Application Project.
The teaching staff is made up of Diego Romero, Mario Salinas, Eduardo Vidal, Víctor Cárdenas, Germán Hoernig and Guelis Montenegro, belonging to the Departments of Design and Manufacturing, Mechanics, and Electrotechnics and Computer Science.
Those interested in this Diploma, can enter the following link or write to [email protected]