The sliding screen from this past CES is not the only one Samsung is working on for the launch of new folding devices. Through its subsidiary Samsung Display, the South Korean firm has unveiled a new type of flexible OLED screen that has the peculiarity of being able to bend completely forwards or backwards, using a 360-degree hinge. This is an important advance, since the normal thing is that flexible OLED screens can only be folded in one direction.
The prototype, which receives the name Flex In & Out, was initially exhibited during CES 2023, but only now have we been able to meet it. This is one of those technologies that is initially only shown behind exhibitors and behind closed doors, usually looking for partners interested in its integration into future commercial products.
According to publish The Verge, Samsung's new folding screen has a new hinge that significantly reduces the central bulge derived from the fold. Also, the mechanism reduces the force exerted on the screen, which should improve its durability.
The use of a screen capable of bending 360 degrees could be an important technical advantage for the launch of new folding phones, and that is that it would facilitate the design of fully manageable devices when folded without the need to add a second screen. This is the case of the Galaxy Z Fold4, which uses a large internal folding screen to provide a typical tablet user experience, but integrates a smaller external screen to make calls or operate the mobile with one hand.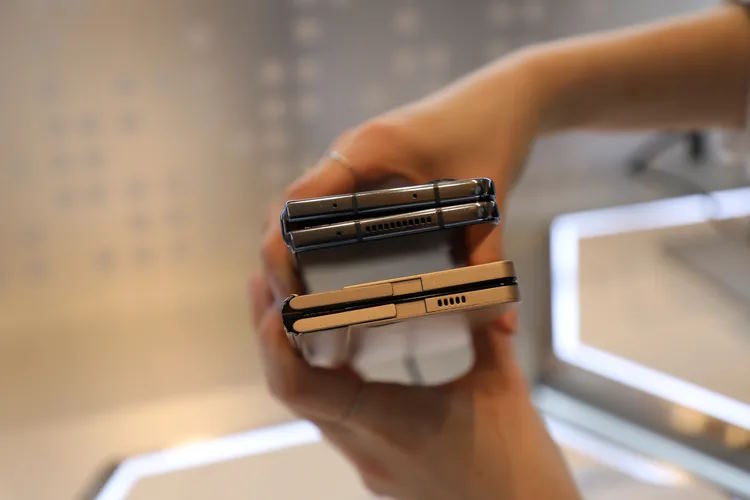 The Flex In & Out prototype is shown below the Galaxy Z Fold.
It is not yet clear if the future Galaxy Z Fold5 will use this type of screen. We should leave doubts by September. Much earlier, on February 1, Samsung will unveil the Galaxy S23, equipped with the company's latest technology in terms of flat screens.