Introduction and Technical Specifications of MSI USB-C Docking Station Gen 2
With an increasing offer of ultra-thin laptops and the adoption of USB-C as a connectivity standard, today we can find ourselves with a lack of physical ports when connecting different peripherals. The solution is offered by the HUBs and Docking Stations that allow multiplying the connectivity options of any equipment.
In this MSI USB-C Docking Station Gen 2 review We will learn about MSI's second generation proposal to multiply the connectivity options of any computer, be it desktop or laptop (although its use is more designed for laptops), and it even works with Smartphones and Tablets.
With this device we can have our own workstation based on an ultra-slim laptop or even a smartphone, managing up to 3 screens, with Ethernet network connectivity and different USB-C and USB-A ports for peripherals and all kinds of devices.
Technical features of the MSI USB-C Docking Station Gen 2
PC connectivity: USB-C 3.1 (3.2 gen 2) 10 Gbps.

Docking station connectivity.

1 x USB-C 3.1 (3.2 gen 2) with DisplayPort.
1 x USB-C 3.1 (3.2 gen 2).
2 x USB-A 3.1 (3.2 gen 2).
1 x USB-A 2.0.
1 x RJ45 1Gbps Ethernet.
1 x HDMI with 4K support at 60 HZ.
1xDisplayPort.

150W external power adapter.
Measures 165 x 80 x 30mm
0.6kg weight.
Price: 230 euros.
Design and connectivity
Measuring 165 x 80 x 30 mm, the MSI USB-C Docking Station Gen 2 it moves away from those more smartphone-oriented compact models. It is a robust dock with many ports, designed to be used as a workstation.
MSI includes a small base that allows it to be used in both vertical and horizontal modes, it all depends on the distribution of the space we have and what is most comfortable for us. To do this, we have a small threaded hole on the side that hooks onto a metal base. This base has a considerable weight to keep the dock stable in that position.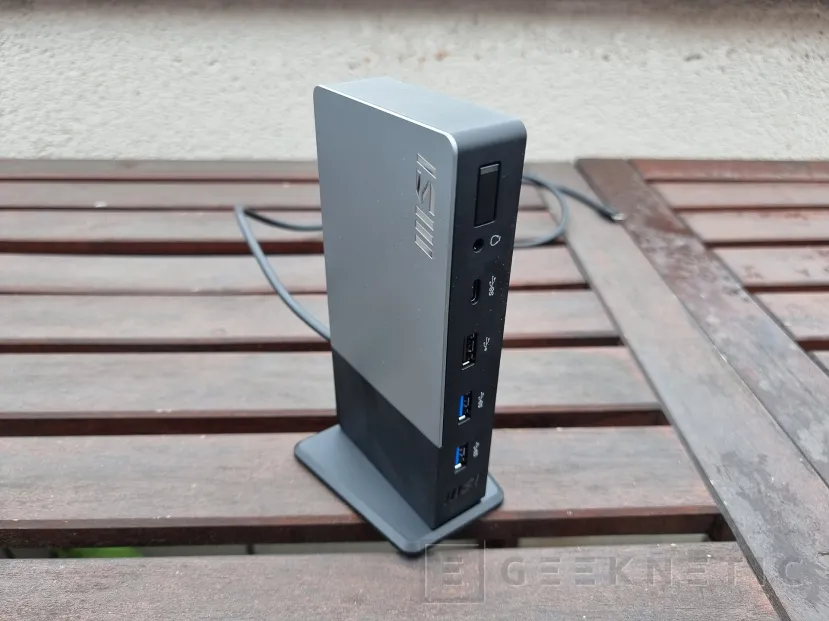 To join them, you have to use a screwdriver, since MSI has not integrated a screw with eyelet that allows you to do it without tools.
The first thing that stands out is that it requires an external 150W power supply, identical to that of many laptops. This is something to keep in mind because it adds weight and volume to the set and limits it quite a bit if we were planning to use it as a portable hub. In any case, the source is necessary because it allows to offer 100W through the USB-C with which we connect it to the computer, so we can do without the laptop's power adapter (at least if it is 100 or less W).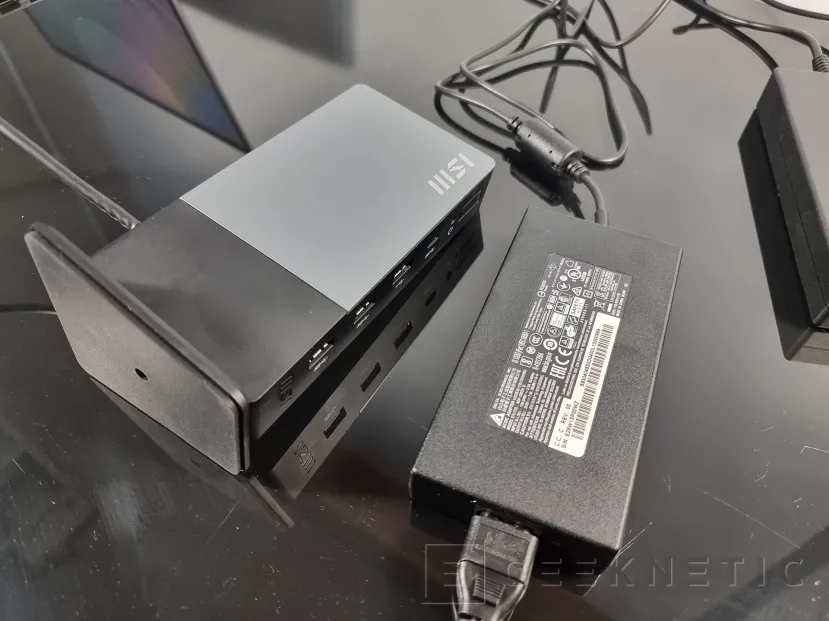 The design of the MSI USB-C Docking Station Gen 2 combines gray with black, with the chrome MSI logo on one side.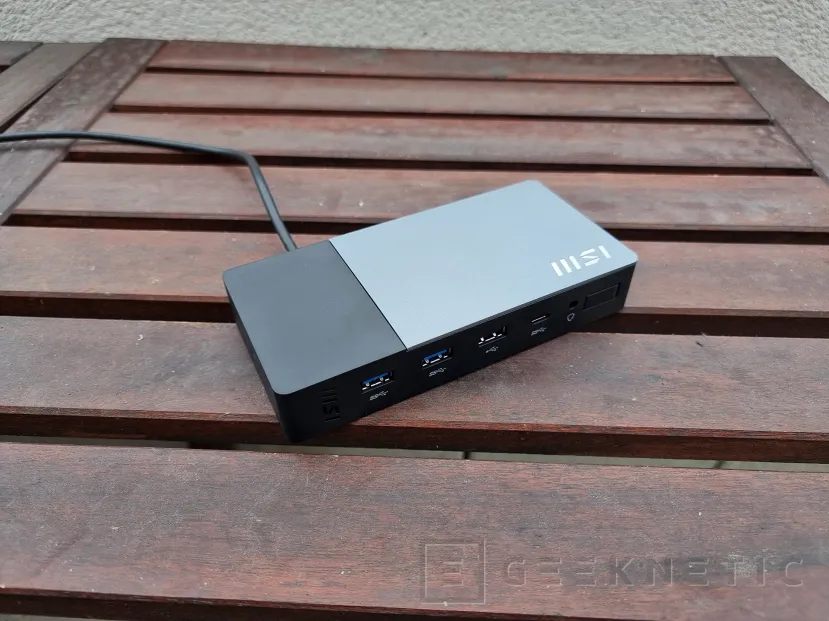 In the lower part, two small rubber stickers act as non-slip if we place it horizontally.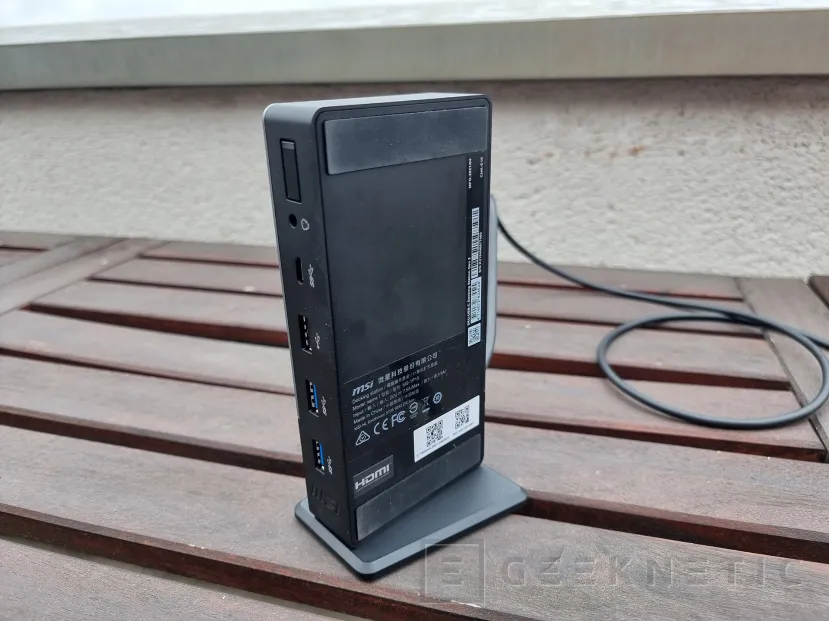 In the front area we have three USB-A ports. The first two are USB 3.1, also known as USB 3.2 Gen 2, with a bandwidth of 10 Gbps. The third port is a modest USB 2.0 port.
It is followed by a USB-C, also 3.1, and a headphone jack for sound or speakers. At the end of the whole we find a small power button that allows you to turn off and turn on the equipment to which it is connected, replacing its own power button. This is useful if we use, for example, a laptop with the lid closed and we do not have access to its own power button.
The connectivity of MSI USB-C Docking Station Gen 2 continue on the opposite side. There we have, from left to right, a DisplayPort of a specific size, a USB-C 3.1 with internal DisplayPort, an HDMI with 4K support at 60 Hz and an RJ 45 1 Gbps Ethernet port. It is followed by the power input from the 150W adapter, and the fixed USB-C 3.1 cable that goes directly to the computer or device and from which data and up to 100W of power are transmitted. We also have a small Kensington security port.
The RJ45 port supports MAC Pass Through and Wake on Lan, the first option allows you to use the MAC of the laptop or device to which it is connected and thus avoid problems with networks with MAC filtering (for example company networks). On the other hand, Wake on Lan allows you to activate the computer by receiving the "magick packet" directly to the Docking Station, although for it to work it is necessary to have the computer's power supply connected as well.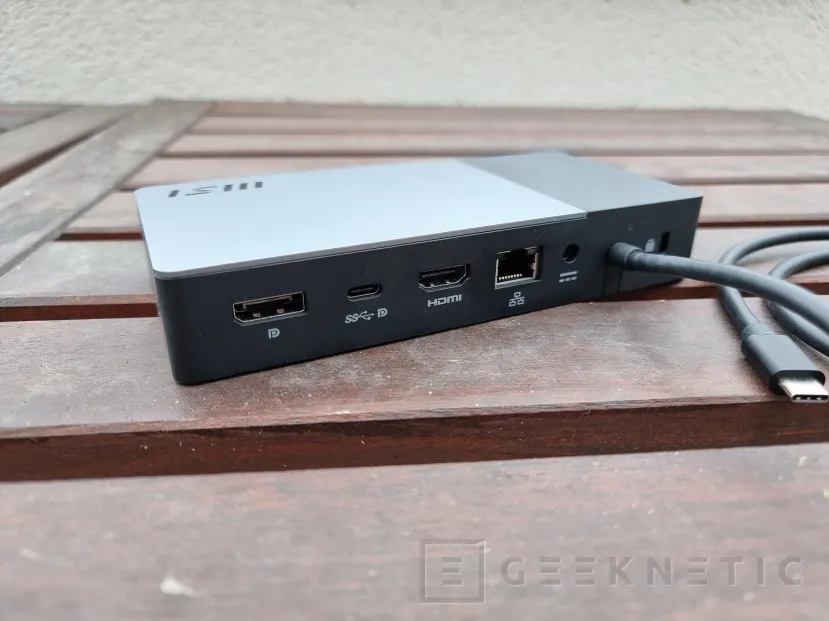 MSI USB-C Docking Station Gen 2 Performance and Charging Tests
Here we have to talk about USB-IF's misleading marketing strategy of renaming USB 3.0 and USB 3.1 to "USB 3.2 Gen 1 and Gen 2" respectively, the standard is the same, so when we see a device advertised as "USB 3.2", we will have to take a good look at what type of USB it is. In this case, USB 3.2 Gen 2 is, without any difference, the same USB 3.1 that has been with us for years.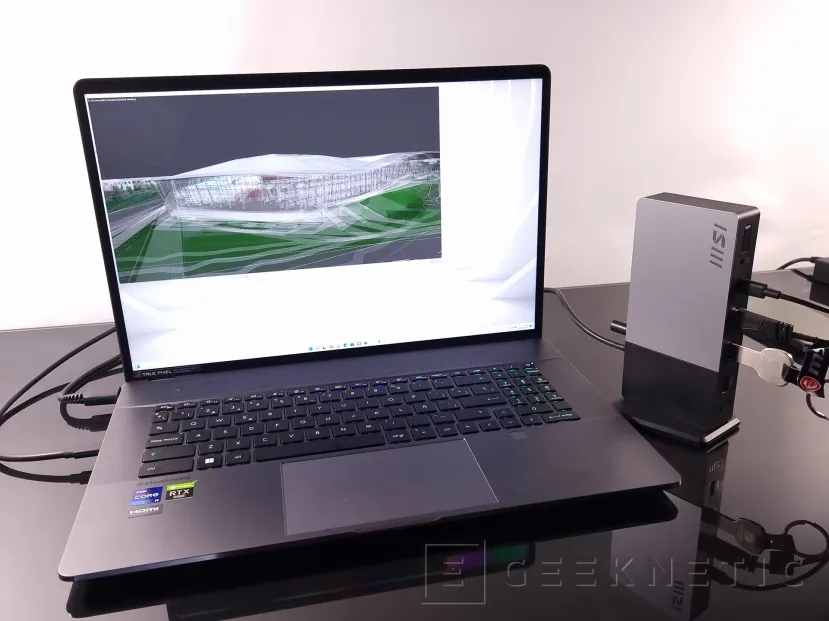 That means we have a bandwidth of 10 Gbps between the Docking Station and connection to the computer via the integrated USB-C cable. Therefore, that is the maximum bandwidth that the different ports will share. Therefore, if we use only one of the USB 3.1 (3.2 gen 2) ports of the device, we will have a maximum transfer speed of 10 Gbps, but if we use several ports at the same time, that bandwidth will be divided between them.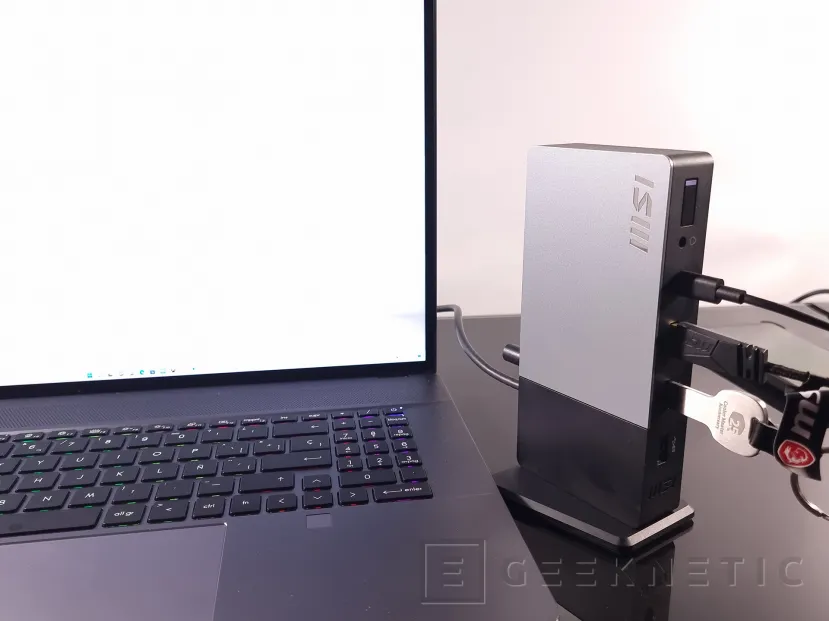 To obtain higher bandwidths, a higher standard such as "real" USB 3.2 (20 Gbps USB 3.2 Gen 2×2) or USB4 and Thunderbolt 4.0, capable of reaching 40 Gbps, would be needed. That would give it more capacity, although it would require equipment compatible with these ports.
Carrying out tests with an external SSD drive, we have achieved sustained transfer speeds of over 760MB/sidentical figures to those achieved by connecting the drive directly to the laptop via a USB 3.1 port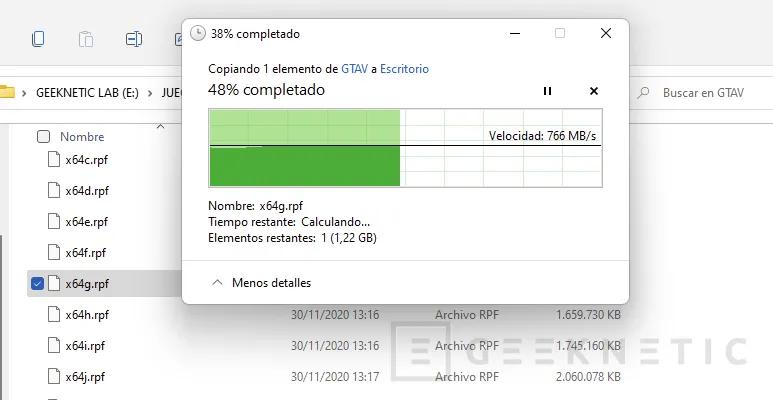 If we connect several devices making transfers at the same time, the speed drops. However, it does not seem to affect it if we have a monitor connected
as we have already seenthe USB-C cable for connection to the PC offers charging up to 100W, that means that with a single cable we can do without the power adapter of a laptop as long as it is 100 W or less. For equipment with higher power supplies and requirements, we will still be able to power it but with limitations.
For example, in the case of the MSI Creator Pro Z17, we have a 240W charger, so if we want to charge the battery or get the maximum performance, the 100W of the MSI USB-C Docking Station Gen 2 is insufficient. However, if we are not demanding power from it, or if it is directly turned off, the 100W is enough to charge the battery or keep the equipment on.
The power delivery is adaptable and can charge tablets or smartphones. Unfortunately, does not seem to support the most common fast charging standardsand for example, a Samsung Galaxy S21 Ultra is not capable of charging in its fastest mode, and neither is an ASUS Zenfone 9.
When it comes to display support, DisplayPort and USB-C offer more bandwidth options for video signal at more frequencies. HDMI is more limited as it's not HDMI 2.1, though all ports support 4K at 60Hz with one or two displays, or 4K at 30Hz with three.

For example, we have carried out tests to connect a monitor with a resolution of 5,120 x 1,440 pixels, and with HDMI we are limited to 60 Hz, but with USB-C and DisplayPort we can reach 120 Hz. Something to keep in mind if we are going to use screens with high frequencies.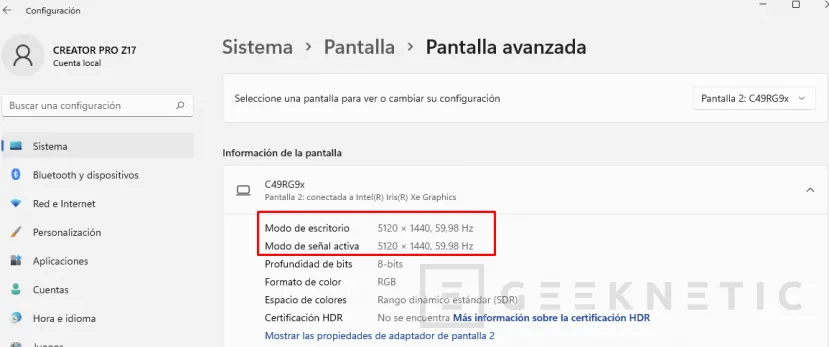 Analysis and conclusion
As we said at the beginning of this MSI USB-C Docking Station Gen 2 review, Nowadays it is easy to find very thin and compact laptops that delegate most of their connectivity to USB-C, and it is in those cases where this MSI dock can develop its full potential.
Starting with a single USB-C 3.1, we have a full suite of USB-C, USB-A, HDMI, DisplayPort, and even Gigabit Ethernet ports to turn any laptop (or even smartphone) into a full-fledged desktop workstation.
USB-C 3.1 (USB 3.2 Gen 2) connectivity is now quite widespread and that gives the docking station a lot of versatility, but it will fall short if we want to take advantage of higher-speed transfers that ports like Thunderbolt 4 would offer us. or the USB4.
The 100 W of power delivery is more than enough to power ultra-thin equipment, allowing you to dispense with the power adapters of these laptops, but it will fall short for more powerful equipment with higher capacity power supplies. Of course, in exchange, we will have to use the 150W source that is included with the dock.
Currently, it can be found for 230 euros, a figure to consider and much higher than the cost of a basic USB-C dock. Naturally, these basic docks do not have their own power supply or allow devices to be charged at that level, but depending on the type of user, they may be enough.
Without a doubt, where else can you take advantage of the MSI USB-C Docking Station Gen 2 It is accompanying it with ultra-thin laptops with limited physical connectivity, since it is in those situations where the large number of available ports allows them to become much more capable computers, either for multi-screen environments or to improve USB and network connectivity.
End of Article. Tell us something in the Comments!