Max is a Ukrainian boy barely 20 years old who, until February 24, led the normal life that any student of his age leads anywhere in the world. But on February 24, Russia began to bomb Ukraine and invaded the country. His life changed suddenly. The war settled in the heart of Europe and Max went overnight to become a partisana young guerrilla who works for the Ukrainian Army.
This is his story and so he tells it for EL ESPAÑOL from his home in Kherson (a region under Russian rule), where he has his base of operations. The interview was conducted by video call on August 24, Ukraine's independence day. Exactly six months after the invasion, three days after Dugina's death. Max appears in the foreground, behind him only a bare wall is visible. Absolute sobriety. And in a slow voice he explains that "the entire Kherson region is involved in this partisan movement."
"The Russian invasion was so fast and so violent that that is why many people joined this organization" which, as detailed, has different categories. "It is an international movement in which, in addition to civilians, there are also soldiers and militias and many people who are suffering from the war. It is such a broad body, which brings together both young people and older people," he says.
People in these last two age groups are the most basic level of this rebel group, but where most of the work is concentrated is "on the information fronts". And that's where Max and his colleagues come in. "It was the only way to help".
From the Kherson region, where they are, they have a chat in which they notify all the positions of the Russian troops. They are dedicated to investigating and detecting the positions of enemy soldiers. And, after verifying them, they send them to an 'app' that transmits the information directly to the Ukrainian government. "It is a great help and can be accessed from anywhere on the Ukrainian territory."
[Por qué Putin no intimida ya a la OTAN: 100 días que acabaron con el mito de la máquina militar rusa]
He himself had the opportunity to verify with his own eyes that what he was doing was something really valuable. It was in mid-March: "I had to run away and move from the place of operations where I was staying with my colleagues because there were strategic targets very close to our location." They made the decision to move to the outskirts of Kherson, "very close to the road that leads to Mikolaiv." And then they met a large number of enemy troops on their way to Mikolaiv (a city that is currently under Ukrainian rule).
From the balcony of their apartment, Max and his companions found binoculars that helped them detect "a huge row of Russian troops in the middle of the field." There were "long columns, there were about 20 units of Russian troops, so we decided to send the location to the Ukrainian government." The enemy forces "were about 10 kilometers from us and in a matter of 10 minutes they were destroyed for Ukraine. So our work really works because I've seen it myself."
Until then, Max hadn't realized how much he was risking "because I didn't think Kherson was going to be taken over so quickly and the only thing I could do legally or safely was donate. But I wanted to help." The only thing I wanted to do was help the Ukrainian Army to protect my land.".
Risk and adrenaline
The group of partisans in which it is integrated is made up of more than 500 people who check all the positions of the enemy troops that come to them from different sources. All of them filter the locations that are sent to your private chat first.
[Olena Zelenska, a Reino Unido: "Mientras contáis los peniques, en Ucrania contamos los muertos"]
"It's interesting because in Ukraine we have advanced technology and the 'app' we use is like a Telegram 'bot' where we send the locations and that information goes directly to the Government".
Once the notice is received, they send some people to those locations to check whether or not there are Russian troops. And after verifying it, they send the warning to the government 'app'. "There is a lot of false information about Moscow's positions, about Ukrainian troops, about ammunition, about the equipment used, etc. That is why it is necessary to do this verification work. It is a way of fighting Russian propaganda.".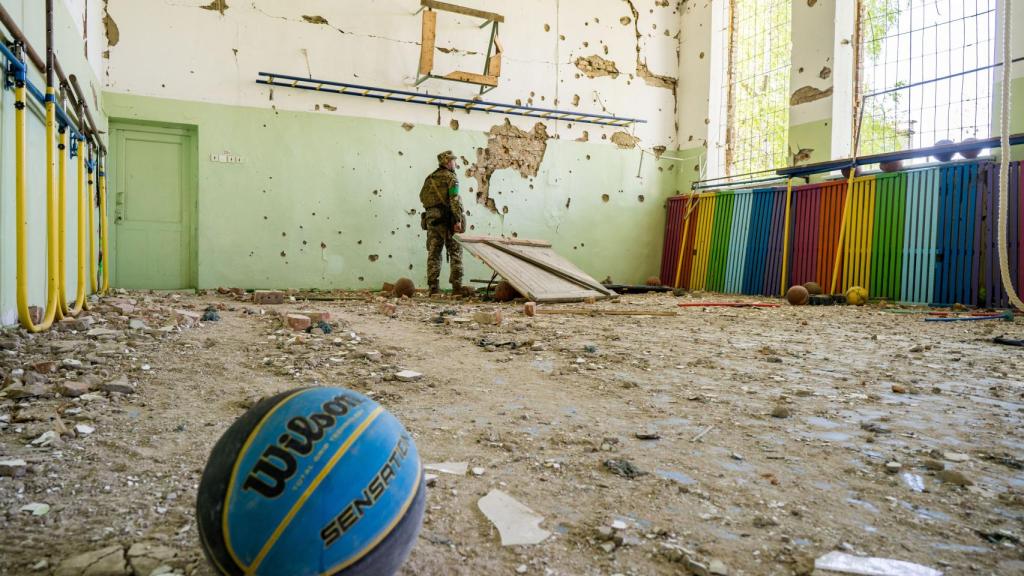 When he joined the partisan movement, Max didn't know exactly what he was doing. But he immediately understood that this was the only way he could help and, although he assures that now he is aware that "I could have lost everything, even my life or that of my family"; at that time he "was experiencing so much adrenaline that the only thing he wanted to do was help the Army".
Far from the front, from Europe, things are perceived differently. "We have great support from the European Union (EU), but so many months have passed since the conflict broke out that I think people have gotten a little tired of hearing about the war"; she holds. The only thing he asks of Europeansand in particular the media, is "don't fall for Russian disinformation".
[La UE descarta un veto total a los turistas rusos pero complicará el logro de visados]
He is convinced that it is necessary to avoid entering the game of hybrid information warfare and that efforts must be made to "tell the real news, disarm the lies and try to share information from different angles." That is the only warning he gives.
More than six months have passed since the conflict broke out and Max leaves for the end a reflection that may be slight and temporary when one lives the conflict from a distance, but it is devastating when the person who does it is someone who lives daily with the pumps: "It is unusual to face such a world in the 21st century".
*** This interview has been possible thanks to the collaboration of PR Army, a Ukrainian non-profit organization