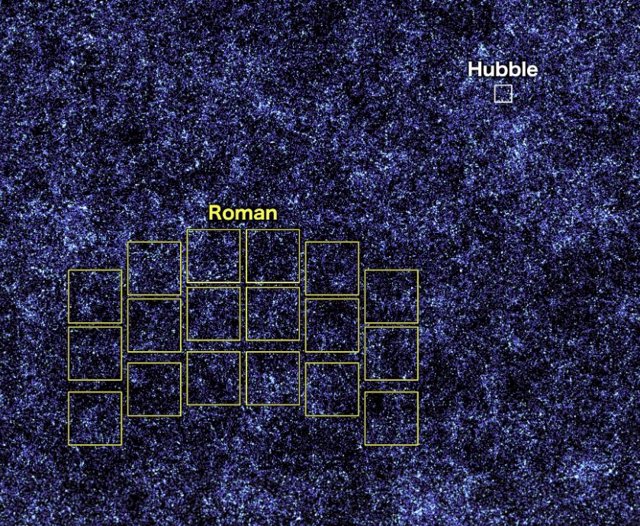 This image, which contains millions of simulated galaxies scattered across space and time, shows the areas that Hubble (white) and Roman (yellow) can capture in a single snapshot. – NASA'S GODDARD SPACE FLIGHT CENTER AND A. YUNG
March 2 () –
A simulation shows how NASA's Nancy Grace Roman Space Telescope will turn back the cosmic clock, unveiling the evolving universe in unprecedented ways when it launches in 2027.
With his ability to rapidly image vast swaths of space, Roman will help us understand how the universe went from being a primordial sea of ​​charged particles to the intricate web of vast cosmic structures what we see today reports NASA.
"The Hubble and James Webb Space Telescopes are optimized for studying astronomical objects in depth and up close, so they are like looking at the universe through pinholes", explains in a statement Aaron Yung, a postdoctoral researcher at the NASA Goddard Space Flight Center in Greenbelt, Maryland, who led the study. "To solve cosmic mysteries on a larger scale, we need a space telescope that can provide insight much wider. That's exactly what Roman is designed to do."
Combining Roman's grand vision with Hubble's broader wavelength coverage and Webb's more detailed observations will offer a more complete vision of the universe.
The simulation covers a two-square-degree slice of sky, equivalent to about 10 times the apparent size of a full moon, containing more than 5 million galaxies. It is based on a proven model of galaxy formation that represents our current understanding of how the universe works. Thanks to a technique "extremely effective", the team can simulate tens of millions of galaxies in less than a day, something that could take years with conventional methods.
When Roman goes live and starts providing real data, the scientists will be able to compare it against a series of such simulations, putting their models to the test. That will help unravel the physics of galaxy formation, dark matter -a mysterious substance that can only be observed through its gravitational effects- and much more.
In December it was published in the magazine Monthly Notices of the Royal Astronomical Society an article describing the results.