Published:
Jul 5, 2023 08:23 GMT

Police have announced a monetary reward of more than $125,000 for information leading to the location of those accused of foreign collusion and incitement to secession.
The Hong Kong leader John Leedeclared this Tuesday that the eight activists residing abroad on whom arrest warrants are pending for alleged crimes against national security would be "hunted for life", reported South China Morning Post.
"Endangering national security is a serious crime and the Government [de Hong Kong] will strictly enforce the law. The Government will use all legal means and, to the best of our ability, will make these criminals who endanger national security be held accountable… Even if these fugitives go to the end of the world, the authorities will pursue these criminals forever"Lee said at a press conference in Hong Kong.
Hong Kong Police presented this Monday charges against the activists, accusing them of serious crimes, including foreign collusion and incitement to secession, within the framework of the National Security Law. Likewise, he offered rewards of one million Hong Kong dollars (approximately US$127,700) for information leading to the arrest of each of the activists.
The authorities accuse the activists of ask foreign powers to impose sanctions to Hong Kong and China. "They have fomented sanctions… to destroy Hong Kong and intimidate officials," express Steve Li, an official with the police's national security department, told Reuters.
"I have not accepted funding from any foreign government or work for any government agency. I do not accept orders or mandates," he claimed one of the accused activists, Nathan Law, on Twitter. "If meeting with foreign politicians, attending seminars and hearings are 'collusion with foreign forces,' many HK officials [Hong Kong] they should have legal problems", he added.
4. I have not accepted any foreign govt funding, nor am I employed by any govt agencies. I don't accept any commands or orders. If meeting foreign politicians, attending seminars & hearings are "colluding with foreign forces", a lot of HK officials should be in legal trouble.

— Nathan Law 羅冠聰 (@nathanlawkc) July 3, 2023
For its part, the United States condemned this announcement on Monday, arguing that "the extraterritorial application of the National Security Law imposed by Beijing is a dangerous precedent that threatens human rights and fundamental freedoms of people from all over the world."
Likewise, the British Foreign Secretary, James Cleverly, he pointed that his government "would not tolerate any attempt by China to intimidate and silence individuals in the UK and abroad." His Australian counterpart, Penny Wong, It showed itself deeply disappointed and expressed concern about the wide application of the National Security Law.
Australia is deeply concerned by reports of Hong Kong authorities issuing arrest warrants for democracy advocates, including those in Australia. Freedom of expression and assembly are essential to our democracy and we support those in Australia who exercise those rights.

— Senator Penny Wong (@SenatorWong) July 4, 2023
For her part, the spokeswoman for the Chinese Foreign Ministry, Mao Ning, stressed at a press conference that the defendants "have been participating in anti-Chinese activities for a long time aimed at to destabilize Hong Kong". The official added that "Hong Kong affairs are purely internal to China and do not admit interference from external forces."
"The countries involved should respect chinese sovereignty and the rule of law in Hong Kong, stop supporting anti-Chinese elements destabilizing Hong Kong, and give up providing a safe haven for fugitives," Ning concluded, referring to the states where the activists are hiding.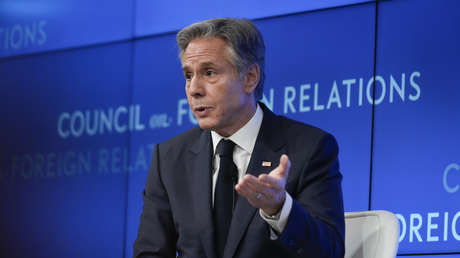 The National Security Law was approved in 2020, despite the numerous anti-Chinese disputes and protests that its birth had sparked a year earlier. Although Beijing justifies the legislation given the need to prohibit secession, subversion of state power, terrorist activities and foreign interferenceexperts emphasize that these measures undermine the autonomy promised to Hong Kong for 50 years after its handover from the United Kingdom to China in 1997.
In 2021, the US imposed sanctions seven Chinese officials for the suppression of democracy in Hong Kong. "In the face of decisions taken by Beijing last year, which have stifled the democratic aspirations of the Hong Kong people, we are acting. Today we send a clear message that the United States stands resolutely on the side of the Hong Kong people," stated the then Secretary of State, Antony Blinken, in a statement.