MSI is already selling its first Intel graphics as part of a pre-assembled kit, it's the A380 and it comes completely out of the box with the speeds and TDP untouched.
Rumors reached us the other day that the production of Intel Arc graphics could be in trouble since an assembler had decided to stop making theirs due to alleged quality problems with the graphics. Whether true or not, today we see that MSI begins its journey with Intel graphics by selling the Arc A380 as part of a pre-assembled PC.

In June we saw a leak indicating that this graphics card would be integrated into one of MSI's pre-built gaming PCs. The data agrees since one of the models shares a processor and motherboard with the filter then, although aesthetically they are not the same tower. MSI gives options of choose between the Core i5-10400F or Core i5-12400Fhaving motherboards with Intel H510M or H610M chipset, respectively.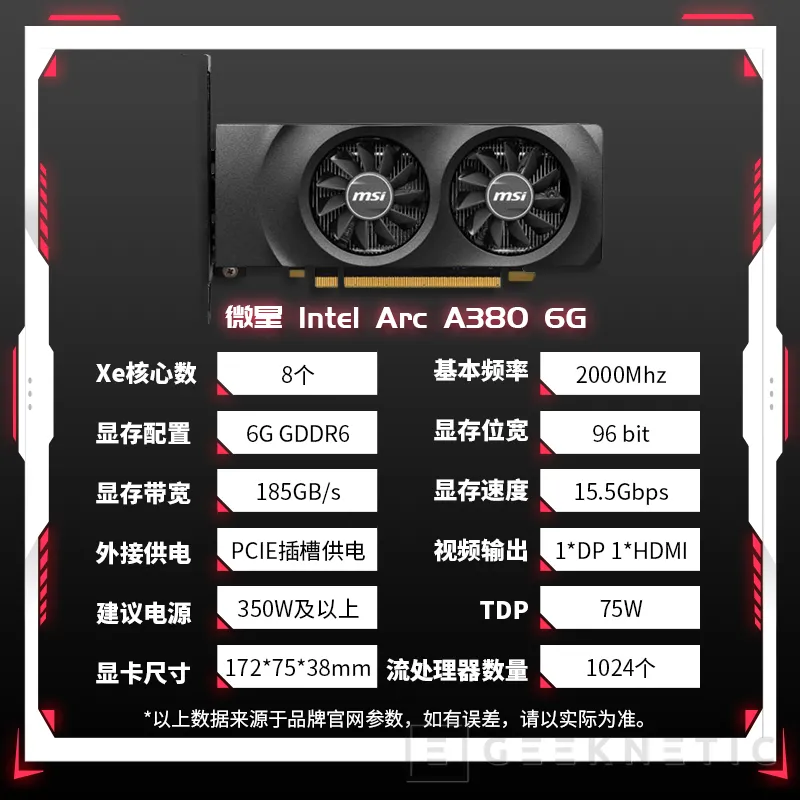 MSI has decided not to alter the graphics characteristics at all Intel Arc 380, comes completely standard: with their 2000 MHz for the core and 75 W of TDP. In total it has 6 GB GDDR6 running at 15.5 Gbps. This MSI computer is already for sale in china through JD.com for a price of about 520 Euros (i5-10400F) or 636 Euros (i5-12400F).
End of Article. Tell us something in the Comments!

Paul Lopez
At the age of 15 I started overclocking my PC to squeeze out every extra FPS I could in games and scratch a few milliseconds in SuperPi, while posting tirelessly about hardware on the Geeknetic forum as a user and reader. Surely they were so tired of continually reading me in the forum that I became part of the writing team, in which I continue to report on the latest technology. Astrophysics and PC gaming are the hobbies that, after hardware, cover most of my free time.