After seeing a Intel Core i9-13900K on Geekbench, it has now appeared on the CPU-Z website where can we see some information about this next and most powerful processor from intel. This Intel Raptor Lake series features the Intel Core i9-13900K with 8 high-performance cores and 16 high-efficiency cores, with a total of 32 threads of execution.
On this occasion we have seen how this processor has executed the validation on a board with a Z690 chipset but that has DDR4 memory. Although we already knew that the new generation of Intel would support DDR4, with this test it can be confirmed when carried out with 4 modules of 8 GB DDR4 at 2,666 MHz. We also see on the website that the operating system used has been Windows 10.
Regarding performance, the score achieved in the test of a single core of 846 pointsThis is the largest so far beating the previous fastest Intel Core i9-12900KF. In the multi-core test it has obtained 13,054 points, beating the AMD Ryzen 9 5950X or even the AMD Threadripper PRO 3955WXs.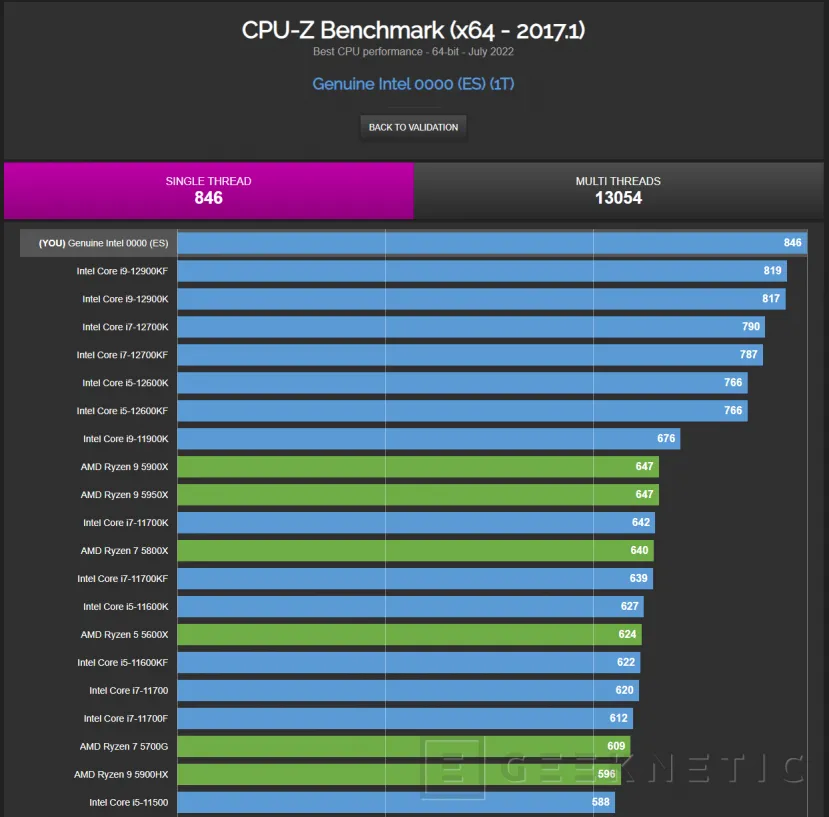 It is expected that Intel presents the new Raptor Lake in the event scheduled for the end of September, Intel Innovation.
End of Article. Tell us something in the Comments!

Juan Antonio Soto
I am a Computer Engineer and my specialty is automation and robotics. My passion for hardware began at the age of 14 when I gutted my first computer: a 386 DX 40 with 4MB of RAM and a 210MB hard drive. I continue to give free rein to my passion in the technical articles that I write in Geeknetic. I spend most of my free time playing video games, contemporary and retro, on the more than 20 consoles I have, in addition to the PC.