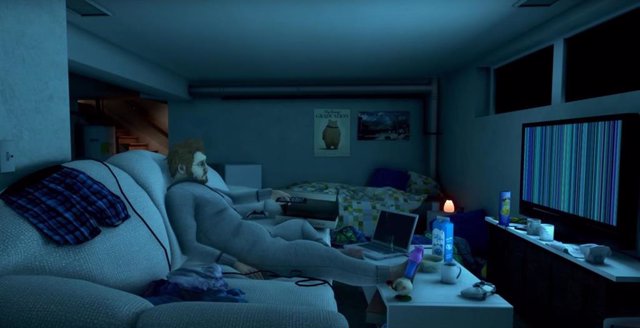 Baby Steps – RETURN DIGITAL
June 9 (Portaltic/EP) –
Baby Steps, Human Fall Flat 2, The Talos Principle 2 and Wizard With a Gun are the four games in which the distributor Return Digital has focused the news of its new annual event.
Baby Stepsdeveloped by Gabe Cuzillo, Maxi Boch and Bennett Foddy, features Nate, a 35 year old man who in an instant goes from being in the basement of his parents' house, doing nothing, to having to fend for yourself in an unknown world.
Players will find in this proposal a character who can barely take two steps without falling, in a walking simulator coming to PC and PlayStation 5 next year.
No Brakes Games has confirmed that it works on Human Fall Flat 2a "bigger, better and clumsier sequel" to the title released in 2016. It will have a cooperative mode for up to eight people.
The Talos Principle 2, for his part, will have more puzzles, new mechanics (such as mind transfer and gravity manipulation) and a deeper story than that of its predecessor. It will arrive "soon" for PC, PlayStation 5 and Xbox Series X / S.
The latest Devolver Digital event title is Wizard With A Guna survival adventure game that puts the player in the shoes of a magician, whose appearance can be customized, with a mission to stop the chaos.
In this title, the magician must collect objects and fight enemies, as well as recover the fragments of the wheel of time. His adventure takes place in a world of 'western' inspirationand will have a single player or cooperative mode with a friend.
The event also announced that Sludge Life 2 will be available on June 27 and the availability of Bleak Sword DX on Nintendo Switch and PC.