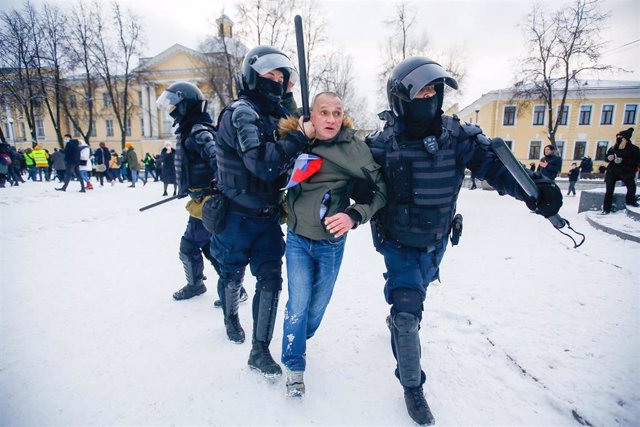 Archive – Ukrainian anti-war protests in Saint Petersburg, Russia – Sergei Mikhailichenko/SOPA Image / DPA – File
Follow live the latest news about the war in Ukraine
24 Feb. () –
At least 54 people have been arrested this Friday in 14 Russian cities, including Moscow and Saint Petersburg, for showing their disapproval of the war in Ukraine within the framework of its anniversary, as reported by the OVD-Info organization.
Specifically, 18 people have been arrested by the Russian Police in Saint Petersburg for carrying out individual anti-war actions, such as placing flowers at the monument to the Ukrainian painter Taras Shevchenko, writing on the snow or picketing.
These arrests are in addition to those in Yekaterinburg, a total of eleven, where several people have staged spontaneous rallies in memory of the Russian opposition leader Boris Nemtsov. Also, at least seven people have been arrested in Moscow.
Specifically, at least two people have been arrested this Friday in the Russian city of Nizhny Novgorod near the monument to Irina Slavina, a deceased journalist who burned herself in front of a police station in protest against the Russian government. . They have been joined by a woman and a minor who carried an anti-war sign in Barnaul.