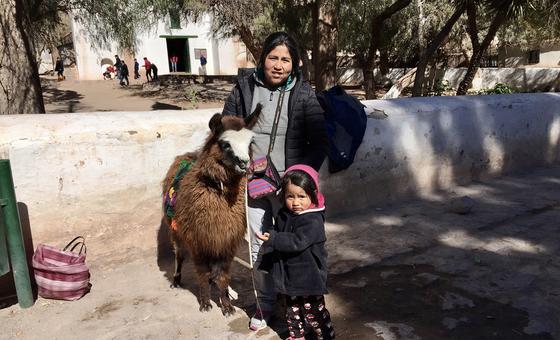 The UN Human Rights Office in Argentina expressed concern about the complaints of violations of rights and violent actions occurred during the protests taking place in the province of Jujuy, in the north of the country, in response to a reform to the provincial Constitution approved yesterday, Tuesday, June 20, by the local legislature.
The UN information reports the improper use of force by police officers, that have left dozens of people injured, including a teenager with severe eye trauma and another person with serious head injuries.
In the context of the demonstrations, reports arrests and prosecution of protesters, indigenous leadersof a provincial legislator and journalists, as well as obstruction of the work of human rights activists.
The protesters, for their part, have also committed some violent actions such as break in by force in the facilities of the provincial legislature.
Investigate rights violations
The representative for South America of the Office urged the provincial and national authorities to investigate with haste "any indication of violations of rights in the context of the demonstrations against the constitutional reform in Jujuy."
Jan Jarab also urged them to redouble their efforts "to promote dialogue and reduce tensionsaddressing the root causes of the protests and avoiding any setbacks in terms of human rights."
incongruous reform
Regarding the reform to the Magna Carta of Jujuy, Jarab said that "it presents inconsistencies with international human rights standards, opening space to setbacks in matters of peaceful assembly".
Among other provisions, that amendment prohibits blocking traffic on streets and highways, a very popular form of protest during the last weeks in Jujuy in the mobilizations against the constitutional reform and in favor of the increase in the salary of teachers.
In this sense, the head of the Office in South America asserted that the free movement of vehicles and pedestrians should not come before the freedom of peaceful assembly nor to democratic participation, despite the disturbances that these may generate.
underrepresented
According to information from the UN, the constitutional reform process in Jujuy lacked meaningful and sufficient participation from all stakeholdersespecially of indigenous peoples,
In this regard, Jarab recalled that "the effective exercise of right to participation is central to democracy, in particular to give legitimacy to a legal body as transcendent as a provincial Constitution".
The representative considered that the situation in Jujuy is linked to two central issues that the Office he leads observes in various provinces of the country: institutional violence and the protection of the rights of indigenous peoples.
The UN urged theconstructive and intercultural dialogue in Jujuy, which guarantees the effective participation of indigenous peoples and all interested parties, to overcome the crisis through democratic and institutional means.
Finally, Jarab reiterated the willingness of the Human Rights Office to accompany the Argentine State in its efforts to comply with its international obligations in the matter in the face of this and other challenges.