The Gigabyte AORUS RTX 4090 Gaming BOX It is an external graphics card that integrates NVIDIA's most powerful gaming GPU inside, the GeForce RTX 4090. In this model, this GPU has an integrated AORUS Waterforce liquid cooling system, something quite striking to see in an external GPU.
It is not the first Gigabyte external GPU, in fact they have been with the Gaming Box range for years with models like the version with RX 580 that we analyzed, or the previous variant with RTX 3080 Ti that already had liquid cooling.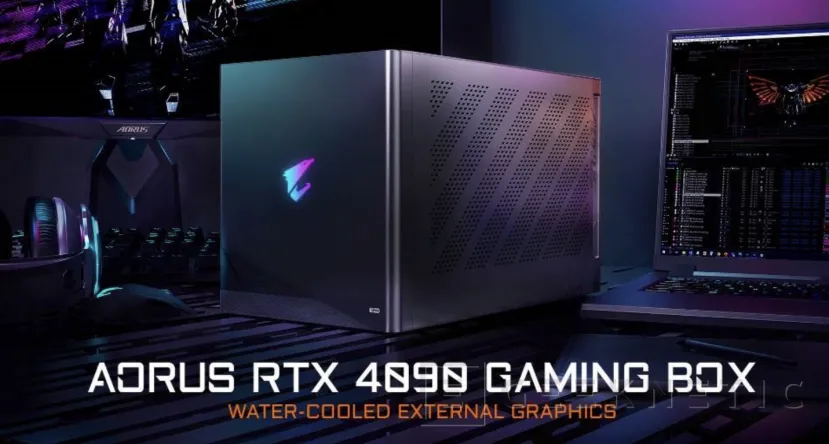 use the port Thunderbolt 3.0 40Gbps pFor its interconnection with laptops or desktops to be able to make use of its graphic power. This port, in addition to connecting the GPU to the PC, also allows the use of the USB-A 3.0 ports, HDMI, three DisplayPorts and a 1 Gbps RJ45 Ethernet that integrates the Gaming Box.
How could it be otherwise, the Gigabyte AORUS RTX 4090 Gaming BOX integrates its own power supply to deliver the necessary power to the graphics. All this is integrated into a metal box with perforations on the sides and the upper area to keep temperatures under control.
It will be interesting to see if the maximum 40 Gbps that the Thunderbolt port develops does not fall a bit short to be able to take full advantage of a GPu like this RTX 40. Let's remember that other companies such as ASUS have developed specific ports such as the ROG XG Mobile Interface to increase up to 63 Gbps the bandwidth, and that's using less powerful external laptop graphics than a desktop RTX 4090 like this.
End of Article. Tell us something in the Comments!
Anthony Delgado
Computer Engineer by training, writer and hardware analyst at Geeknetic since 2011. I love gutting everything that comes my way, especially the latest hardware that we receive here for reviews. In my spare time I mess around with 3d printers, drones and other gadgets. For anything here you have me.