The new 49-inch Evnia gaming monitor. – EUROPE PRESS
The new 49-inch Evnia gaming monitor. – EUROPE PRESS
June 21 (Portaltic/EP) –
AOC and Philips MMD have shown this Wednesday their latest news in monitors presented this year, both for B2B work environments and 'gaming' environments, and have shared a preview of the new 49-inch Evnia 8000-series gaming monitorwhich will be released in September.
The new monitors presented this year by both technology brands, belonging to the TPV group, have been shared at an event with the press in which they have also Analyzed the main trends shown by the monitor market globally and in Spain.
In this sense, they have underlined the importance of POS group in the sector, which during the year 2022 surpassed all its competitors reaching 30 percent of the global market production. As stated by the VP of Philips MMD and AOC Thomas Schade"size is important, because it gives us access to the latest technologyto investments and therefore to innovation surge in our products".
For its part, the new Country Manager of AOC and Philips MMD in Europe, Antonio Valiente, has indicated that during the first quarter of this year, the development of the European market has decreased by more than 20 percent, compared to previous years. A substantial difference with respect to the increase in the demand for monitors registered in the pandemic years.
However Antonio Valiente, who takes over from Agustín de los Frailes, As they have announced during the event, they have also recalled that it must be taken into account that, in comparison, the pandemic was a "very good" time for the monitor market globally, achieving a 10 percent growth in 2020.
In this framework, he has stated that the fall reflected in this year "is not being so serious", although he has recognized that "it will not be a year of growth". Likewise, as a point in favor, Valiente has valued the fact that during 2023 it has been achieved "normalize prices and adapt production".
On the other hand, it has been detailed that in the case of Spain, the monitor market has fallen by 27 percent in the first quarter of the year. Despite this figure, he has also commented that It is a "very slight annual decrease"with a decrease of only 3 percent in the last twelve months. In fact, he has highlighted that, specifically, Philips MMD and AOC have had a increase in 19 percent in the past year.
INNOVATION AREAS
In addition to all this, Agustín de los Frailes has detailed some areas within the monitor sector in which they are focusing Philips MMD and AOC face to continue to develop innovative technology.
In this sense, one of those areas is the use of USB-C connector for 'docking' workstations on monitors. In the same way, they also affect the webcam implementation directly on the work monitors with their 'Pop-up Webcam'.
Likewise, the screen size it is also a key factor. Specifically, it is intended to increase 27 inches to 34 inches and more because "once a big screen is used, nobody wants to go back to a small screen". Thus, according to Agustín de los Frailes, the 34-inch monitor is becoming "a new standard."
Hand in hand with monitors with more inches, this technology "has to be accompanied by a better resolution", as both companies have pointed out. Finally, the area of gaming-focused monitors It is another of the important points in which these brands continue to work to provide innovation, together with new products that are highly oriented to cover the needs of graphic works.
AGON AND EVNIA GAMING MONITORS
Regarding the novelties of the sector presented this year, one of the sectors with more presence is that of 'gaming'. This is how they have been shown latest monitors released by COO of AGON and Evniaplus a preview of the new 49-inch Evnia 8000 OLED monitor.
Both gaming brands have monitors with features that offer high performance when playing video games. The difference is based on the fact that the AGON design is more aggressive with more characteristic aesthetic lines of the 'gaming' world. On the other hand, the line Evnia has been designed with a "more elegant" aesthetic. In this way, the company intends to satisfy the tastes of a wider range of users.
These devices, as pointed out by the Product Manager of AOC and MMD in Europe, César Acosta, are able to meet the demand for high refresh rate and high resolution, since "they are essential features for gamers" and currently, the 'hardware' "already allows this technology."
In this sense, regarding monitors AGON has highlighted the model AGON PRO (AG276QZD) which is already for sale €1,089. It is a monitor with a 27-inch OLED panel and a QHD resolution of 2,560 x 1,440. Likewise, it reaches a refresh rate of 240 Hz, has a response time of 0.03ms and is capable of displaying 1.07 billion colors.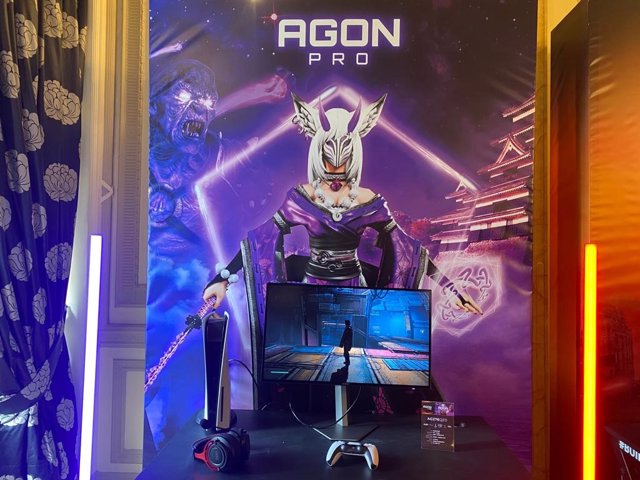 The AGON PRO is equipped with a wide range of cutting-edge innovations for "unmatched gaming performance". Thus, with technologies such as HDR 10 and G-Sync synchronization, it offers a high image quality with "very good" brightness and colors. In addition, its 240Hz update rate and low input latency ensure "smooth, sharp and immersive" experiences.
It even includes a base optimized for 'eSports' And it has anti-glare technology with low reflections to reduce eye fatigue and the visibility of dust and dirt on the screen.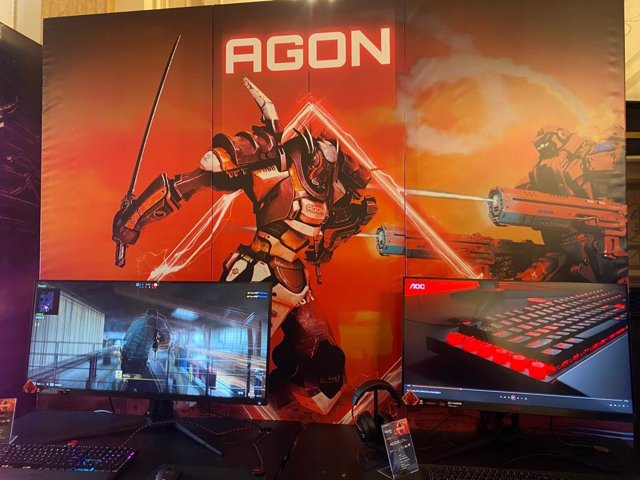 Likewise, Acosta has also made reference to the AGON AG405UXC 40 inch monitor, what was it launched on the market this June for 709 euros. This monitor has a ultra-wide IPS panel (21:9) and it has a UWQHD resolution of 3,440 x 1,440 pixels with a refresh rate of 144 Hz and a response time of 1 millisecond MPRT. Likewise, it also has Adaptive Sync.
As for the Evnia monitors, special attention has been paid to the new 49-inch 49M2C89000 monitor. This monitor has not yet been launched on the market, however, during the presentation Acosta has shown some progress.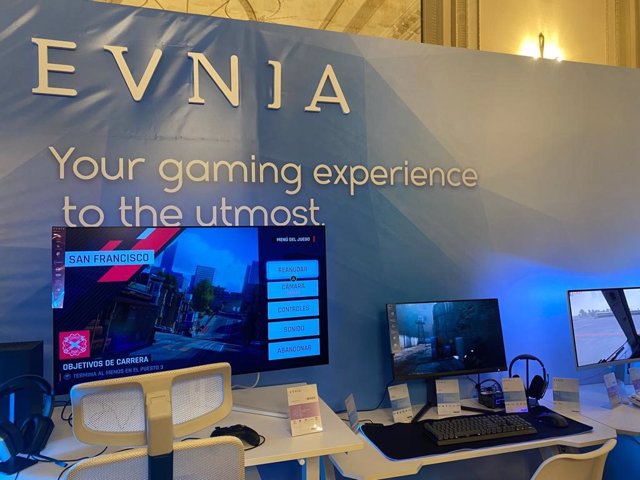 The most striking thing is its large screen size but, in addition, it is a panel QD-OLED, with a DQHD resolution with 5,120 x 1,440. Likewise, it also includes a refresh rate of 240 Hz and a response time of 0.03ms. The new Evnia will start available to users in September.
Likewise, the 42-inch Evnia 42M2N8900 models, already available for 1,699 euros, have also been present during the event; the 34-inch 34M2C8600 available to users for 1,299 euros and the 25-inch 25M2N5200P for 339 euros.
B2B MONITORS
As for the B2B monitors focused on office workas well as to telecommutingPhilips has shown its latest launches with the model B2B UltraWide 40-inch Thunderbolt (40B1U6903CH) available by €1,849with an IPS panel and a resolution of 5,120 x 2,160.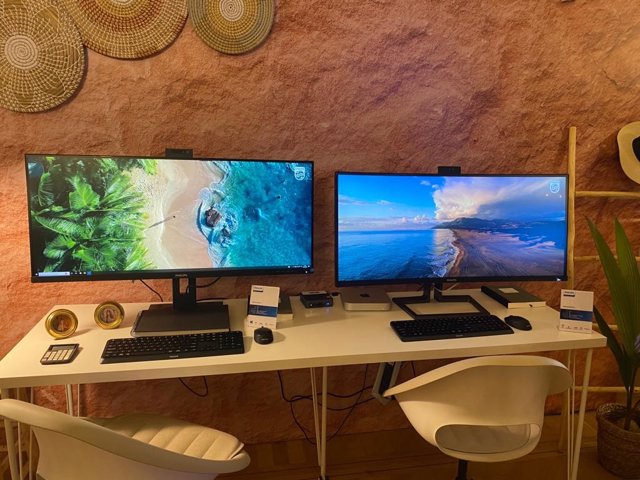 This monitor includes a "safe and reliable" docking solution that allows it to be connected with a single cable. Also, it is able to show sharp images and includes a noise-cancelling microphone that allows the user to communicate clearly. It also has a 5MP webcam with its 'Pop up' system.
Following this line, Acosta has also referred to the 44.5-inch SuperWide Curved Monitor (45B1U6900C), available by €1,189. The company defines this monitor as "multipurpose" since it also has a connection with USB-C and therefore a Connection simple with a single cable. With it, you can both watch high-resolution videos, transfer data and charge your laptop at the same time.