Laurentina Nicacio is 27 years old, but since she was 15, when she learned to read and write, she has been doing hard work in defense of the Wichí indigenous community of which she is a part. It is an impoverished and marginalized community in northern Argentina (mainly in Salta, Formosa and Chaco) made up of approximately 40,000 people who lack food, access to water, health care, and decent employment.
He lives in the town of Ballivián, in the province of Salta, populated by another 800 Wichí families, and although his fight began timidly since his adolescence, his impetus and call to action made him commit himself more fervently over the years, becoming a benchmark for his community, the voice that defends it and claims, but also transforms words into deeds.
She began her activism assisting mothers in the community in matters of health: she read them the prospectuses of the medicines, and she made sure that they followed the instructions of the health workers to solve the illness situations of their children. In this way, she began to get involved to detect the basic needs of her community, to advise families in the process of obtaining their identity document and to encourage them to join micro-enterprises.
"I didn't realize that I was becoming the voice of the community. I was very young when I started with public participation and at first I felt that age was playing against me, I did not have a good timeThat's why I decided to inform myself, train myself, and today I already feel that the respect and attention I receive is something else," said the young woman.
UN Bolivia
Laurentina Nicacio, young activist of the Wichi indigenous community in Salta, in Argentina.
From learning to be heard to amplifying your voice
2021 was a year that evidenced the growth of Laurentina with very concrete results that made sense in her community and in her personal life.
For six months I worked as a bilingual technician in a project framed in the Spotlight Initiative (a program of the United Nations and the European Union aimed at eliminating all forms of violence against women and girls) in the towns of Ballivián and Coronel Cornejo, Salta. Her trajectory and her credibility in her territory made Laurentina a recognized leader, capable of responding and advising women who are going through the pain caused by this scourge.
"There is a lot of violence here, I had been raising it in different women's spaces for years, it is a very serious problem within the community, and through these meetings many women achieved a change of life, they were able to understand how to face the problem and how to ask for help, many of them approached me to talk and the results after the implementation of the project were very noticeable," she assured.
That same year Laurentina created the Juala Foundationwhich lives with two other people, and which has the work of almost twenty volunteers.
"I set up the Foundation because to continue supporting my community and for other actors to get involved. We needed this space, which was key to opening more doors, it was a project that was born while I was taking a literary workshop, and my colleagues encouraged me to finally make the decision to make it happen."
Many deficiencies and few resources
"There are several projects that we are developing, including campaigns to collect food and footwear for Children's Day. We get a lot of help from individuals and the private sector, but it's never enough and sometimes it is very sad to have to determine who are the most needy to give them the donationshaving to leave many families and children with nothing", Laurentina expressed with great sadness.
He also highlighted the work carried out through the foundation to assist the population in health matters. The town is devoid of professionals, they have only one health center a kilometer away, which often does not have the presence of specialized personnel, for example, he mentioned that pediatricians have not attended for a month. Ambulances take more than an hour to reach their destination and sometimes they do not arrivewhich is why a few days ago a woman from the community had to give birth to her baby girl in a police patrol car.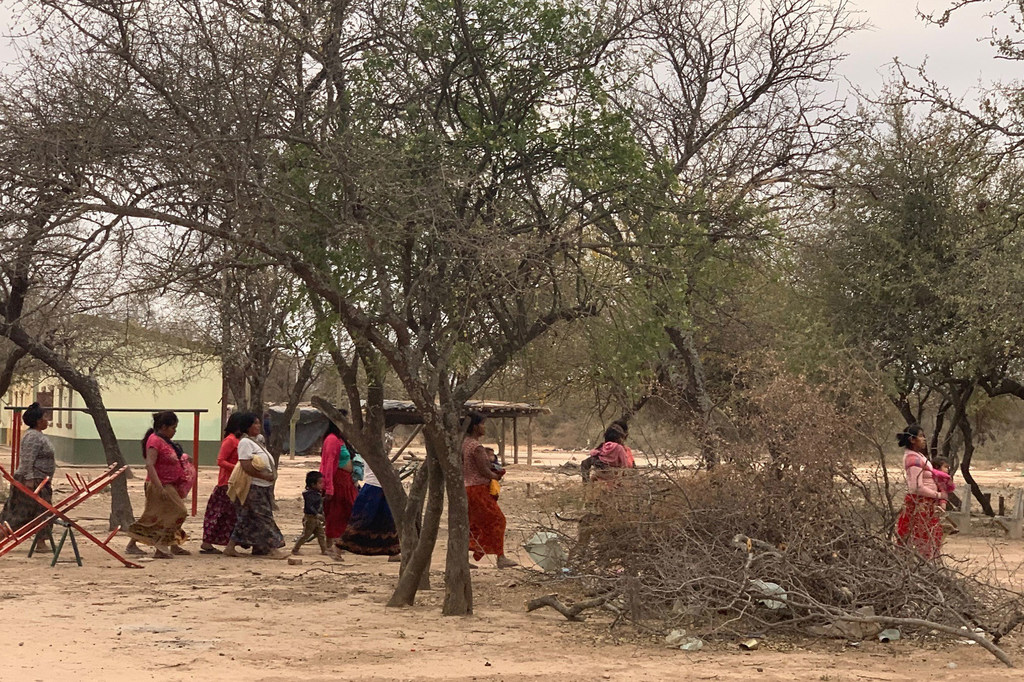 UN Bolivia
Members of the Wichi community in Salta, Argentina.
Sport, the most effective project to keep youth away from addictions
With great enthusiasm, Laurentina recounted one of her favorite projects within the foundation, which today benefits 50 young people between the ages of 13 and 28 who found motivation in sport, a place to get to know each other, to learn and feel that they are capable of improving , leaving behind in some cases addictions.
Volleyball and soccer teams were formed, the latter even receiving the third prize in a contest organized by the River Plate Foundation and thus strengthened the commitment of young people and allowed them to acquire clothing through financial aid granted by the River Plate club. .
The Juala Foundation program promotes training, values ​​such as perseverance and responsibility, and mainly the importance of education is instilled in them, since to be part of the team it is a fundamental requirement to attend school.
Without youth participation, their claims will not be heard
With great humility, but with pride, Laurentina explained that today each locality in the area has youth leaders from the Wichí community, and the visibility of their rights and needs depends on this group.
She is the only woman, the remaining eleven members are men, they are planning a meeting for before the end of the year in which she places great expectations because she is convinced that initiatives capable of changing the destiny of many families will emerge from that meeting.
"Just now the role of youth is understood. My goal is to get more and more young people excited and committed to community causes. My idea is that they be encouraged with education, that they be trained, that they be activists in their actions", highlighted Laurentina, who went on to say: "Being a young reference is a huge responsibility, I am part of it, I live and share my life with the community. My advice to adolescents is that they get to know each other in order to get to know each other, you don't have to be the protagonist of the story to make your people see, to make yourself heard you have to be and feel part of it".
*Salta is one of the provinces that make up the Gran Chaco Americano, a region in which the United Nations has begun a cross-border and trinational work involving UN agencies, funds and programs in Bolivia, Argentina and Paraguay to detect urgent needs and contribute to improving the quality of life of the population.